Chicken pesto pasta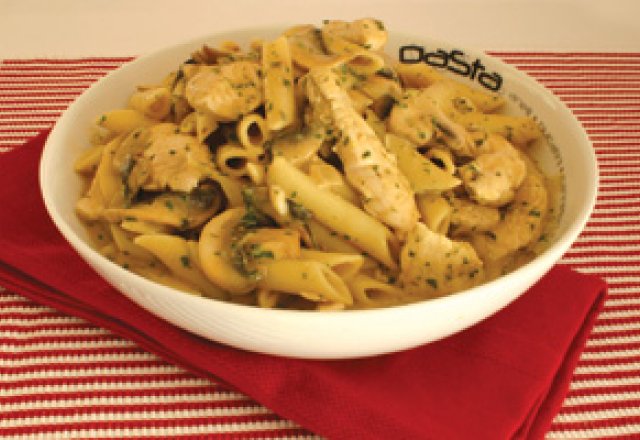 Homemade dishes the whole family will love
The lovely Annette Sym, author of Symply Too Good To Be True, shares some of her recipes
Ingredients (serves 6)
3⅓ cups (300g) raw penne pasta

PESTO
2 teaspoons pine nuts
½ teaspoon crushed garlic (in jar)
2 teaspoons grated parmesan cheese
2 tablespoons water
½ teaspoon salt-reduced vegetable stock powder
½ bunch (45g) fresh basil leaves
1 teaspoon virgin olive oil
SAUCE
500g raw skinless chicken breast cut into strips
cooking spray
2 teaspoons crushed garlic (in jar)
1 onion diced
2 cups mushrooms sliced
4 tablespoons no added salt tomato paste
2 teaspoons salt-reduced chicken-style stock powder
2 tablespoons cornflour
½ cup skim milk
1 x 375ml can evaporated light milk
pepper
Cook pasta following instructions on pasta packet, leave to one side.

To make pesto: Place pine nuts on a flat sheet of foil and brown under griller (be careful as they burn easily). Place all pesto ingredients into either a small blender or use a Bamix® and blend until a paste is made. Leave to one side.

To make sauce: Cut chicken breasts into strips. In a large non-stick frypan that has been coated generously with cooking spray, sauté garlic and chicken until browned. Add onion and cook 2 minutes. Toss in mushrooms and cook a further 2 minutes. Add tomato paste and pesto, mix well. Combine cornflour with skim milk, pour into pan with evaporated milk, bring to boil, pepper to taste. Add cooked pasta to pan, combine well.

Variations: Replace chicken with 500g raw lean rump steaks, lean lamb leg steaks or 500 g faw peeled prawns.
Nutritional information:
FAT TOTAL: 5.6g
SATURATED: 1.7g
FIBRE: 3.1g
PROTEIN: 32.7g
CARBS: 46.74
SUGAR: 10.4
SODIUM: 145mg
KILOJOULES:1554 (cals 370)
GI RATING: LOW
Symply Too Good to be True 5, $13.95, is available from www.symplytoogood.com.au.
Looking for more healthy food ideas? Get daily updates on Twitter and Facebook!
Rate This