Quinoa, almond and ricotta balls with zucchini pasta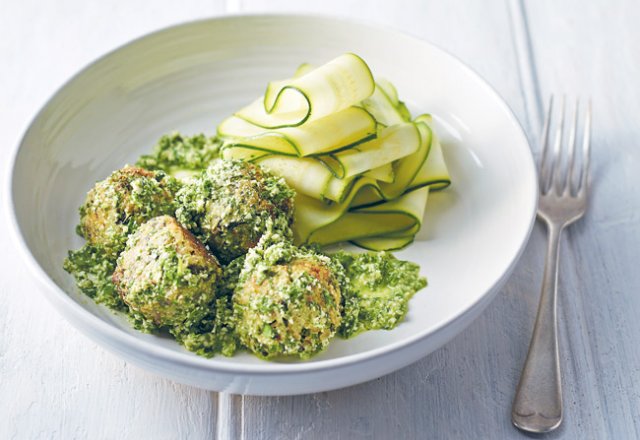 A different way to do pasta
Looking for low-carb recipes? We love these quinoa balls with zucchini ribbons.
Ingredients (serves 4)

Balls
90 g quinoa, rinsed thoroughly
375 g fresh ricotta
1 tbs flat-leaf parsley, roughly chopped
1 tbs basil, roughly chopped
125 g blanched almonds, finely chopped
1 tbs arrowroot
2 tsp sea salt
2 tsp olive oil
Ground black pepper, to taste

Herb sauce
1 tbs flat-leaf parsley, roughly chopped
1 tbs basil, roughly chopped
40 g sunflower seeds
60 ml olive oil
1 clove garlic, crushed juice of 1 lemon
1 lemon, juiced

Zucchini pasta

Method
Preheat oven to 200°C (180°C fan-forced). Line a baking tray with non-stick baking paper.
Place the quinoa and one cup water in a saucepan over medium heat and simmer for five minutes. Transfer to a sieve and rinse well, then drain off any excess water.
Put the quinoa, ricotta, herbs, almonds, arrowroot and salt in a food processor and process until well combined. Roll two tbs of the mixture into a ball and place on the lined tray. Repeat with the remaining mixture. Drizzle with the oil and bake for 25–30 minutes or until golden, turning twice during cooking.
Meanwhile, for the herb sauce, place all the ingredients in a blender or food processor and blend for 10–20 seconds or until well combined and emulsified.
For the zucchini pasta, peel the zucchini lengthways to make ribbons. If you prefer the zucchini warm or not raw, lightly sauté in an oiled warm frying pan for 20 seconds before serving.
Serve the 'meatballs' drizzled with the herb sauce and accompanied by the zucchini pasta.

Recipe and images from Belle Gibson
You might like Quinoa and lentil salad or 5 superfoods from the Aussie outback
Rate This