Chilli salmon patties (wheat and gluten free)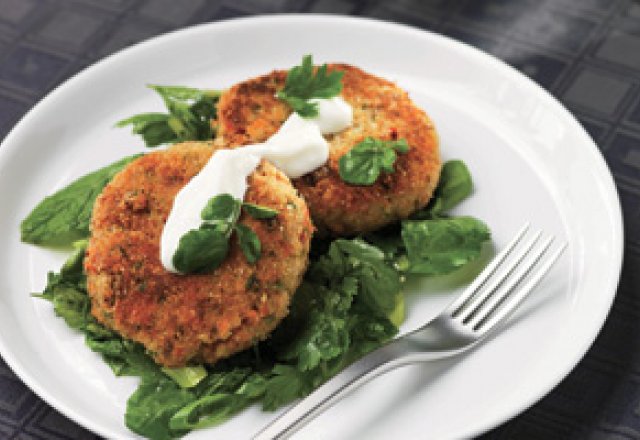 This dish is perfect for the whole family - special dietary requirements or not!
These chilli salmon patties are perfect for dinner parties or family meals. Best of all? They are wheat and gluten free.
Ingredients
¾ cup dried quinoa
280g canned red salmon
2 cloves garlic, crushed
1 small red chilli, deseeded and finely chopped
3 eggs
1 cup (110 g) fresh gluten-free breadcrumbs
2 tbs chopped fresh parsley
Pepper, to taste
1 cup (125 g) dried gluten-free breadcrumbs
Olive oil cooking spray
¼ cup (65 ml) no-fat plain yoghurt
1 garlic clove, crushed, extra
¹⁄³ cup coriander leaves
¹⁄³ cup mint leaves
¹⁄³ cup flat-leaf parsley leaves
1 cup watercress
2 spring onions, green part only, chopped
¼ cup (60 ml) fat-free lime and coriander (or Italian) salad dressing

Method
Place quinoa in a medium-sized saucepan of boiling water and cook for 8–10 minutes or until tender. Drain well and toss with a fork.
In a chilled medium-sized mixing bowl, combine the salmon, garlic, chilli, eggs, fresh breadcrumbs, parsley, pepper and soaked quinoa and mix in with your hands. Refrigerate for 1–2 hours.
Remove from the fridge and shape into eight patties. Flatten to form discs. Place dried breadcrumbs in a shallow bowl. Toss each pattie in breadcrumbs to ensure they are well covered on both sides. Return to the plate. Heat the cooking spray in a large non-stick frypan over medium heat.
Place half the patties in pan, cook for 3 minutes or until golden brown. Turn gently and cook other side for 2–3 minutes or until cooked and warmed through. Remove and set aside on a plate, covered with foil. Repeat with remaining patties.
Blend the yoghurt and crushed garlic. In a separate bowl, combine the herbs, watercress, spring onion, lemon juice and olive oil and season to taste. Place a small serve of herb salad in the centre of each plate. Top with patties and a spoonful of the yoghurt mixture.
Get more recipes and diet advice in our nutrition section and don't forget to find us on Facebook!
Rate This