How to make Chai tea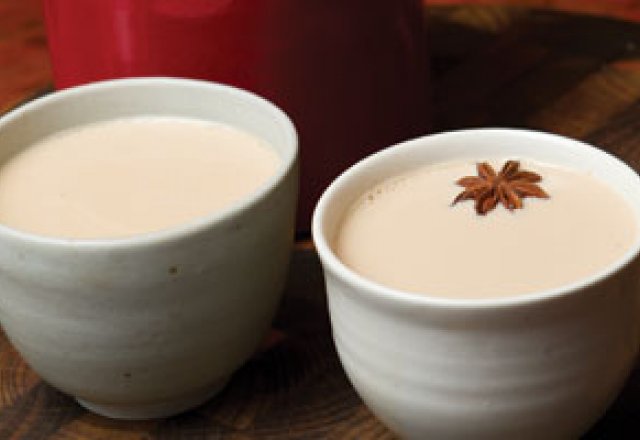 Chai or Indian masala tea is a lovely way to enjoy fresh spices in a sweet milky brew.
There are many good-quality commercial chai blends that you can purchase and then add more spices, but it's also easy to make your own from scratch
INGREDIENTS
2 cloves
1 star anise
3 cardamom pods
2 cups milk (soy or cow's)
1 tablespoon freshly grated or chopped ginger
small piece of cinnamon stick
¼ teaspoon ground cinnamon
1½ teaspoons unperfumed leaf tea (such as English Breakfast)
1 cup boiling water
raw honey (about 1 generous teaspoon per person)

METHOD
Using a mortar and pestle, bash the cloves, star anise and cardamom pods to release their flavour, making sure the cardamom seeds come out of the pods.
Pour the milk into a saucepan and add the bashed spices along with the ginger, cinnamon stick, ground cinnamon and tea leaves. Heat over a medium–high heat for a few minutes until the milk is close to boiling point, then reduce the heat to low and simmer for five minutes. Add the boiling water and simmer on a very low heat for a further five minutes. Strain or place the chai in a coffee plunger.
Add honey to taste and serve.
Browse more healthy recipes and don't forget to share your thoughts on Facebook and Twitter.
Rate This