Ginger and cinnamon 
poached pears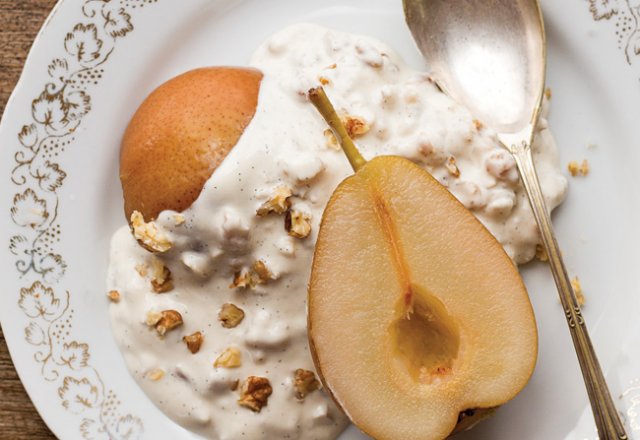 Can be made ahead and served over granola for a breakfast option.
Any autumn/winter fruits can be used here: apples, figs, plums, feijoas or whatever tickles your fancy.
Ingredients (serves 4)
4 cups water
¼ cup room temperature honey
2 cinnamon sticks
Small knob of ginger, finely sliced
4 medium pears, cored and cut in half lengthwise
To serve
Yoghurt
2 tsp vanilla extract or paste
Walnuts, crushed
METHOD
In a large pot, add water, honey, ginger and cinnamon, bring to the boil. Reduce to a medium heat, slowly add pears to fully cover with liquid. Simmer, covered for 15 to 20 minutes until tender and can be pierced with a fork.
In a small bowl combine yoghurt and vanilla, remove pear from pot with a slotted spoon and place on top. To finish, spoon over a few spoons of poaching liquid and sprinkle crushed walnuts on top.
Browse more tasty recipes or join the chatter on our Facebook page!
Recipe by Rosie Percival; photo credit: Jessica Bicknell
Rate This