How to apply fake tan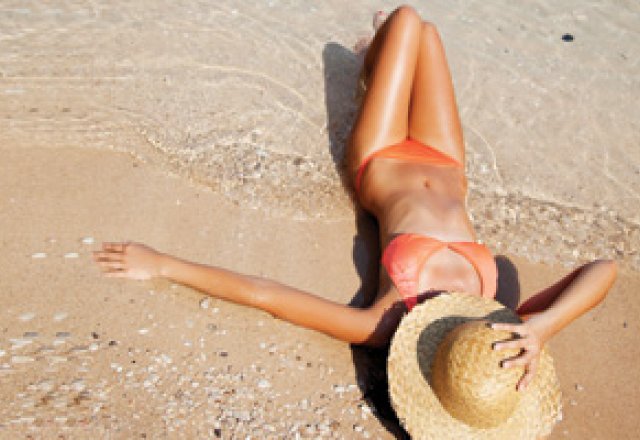 10 top tips for tanning
Don't wait for the sunshine to bring forth your radiance – cheat your way there instead!
1. Preparation
Your tan is only as good as the canvas you put it on. To prepare your skin for the perfect tan, Sonya Driver, founder of Eco Tan suggests, "Exfoliate one to two days prior to tanning as the skin needs a certain amount of dead skin layers on it for the tan to adhere. Most people think they should exfoliate the day of their tan; however, doing this will result in a lighter colour." Avoid using an oil-based scrub, as this can act as a barrier between the tan and the skin.

2. Hair Removal
"A day prior to tanning is best for waxing or shaving," says Driver. By removing hair ahead of time, your skin will be less reactive to the tanning formula and you will avoid scraping or peeling away your hard work.

3. Application
Use tight-fitting disposable gloves when applying tan, or wash your hands thoroughly between applying each section. Pay particular attention to washing the areas between your fingers with a face washer. Apply moisturiser to the rougher areas of the skin, such as the elbows and knees, to stop the tan building up on these dryer spots.

4. Making It Set
Do not shower, bathe or swim, and avoid strenuous activity that will cause sweating for at least six to eight hours after applying your product. The longer you leave it to develop before washing off the residue, the darker it will be.

5. Face
Use only a small amount on the face," says Sonya. "If it is a dark tan, try mixing it with organic moisturiser." Rubbing moisturiser around the hairline will avoid colour build-up.

6. Finding the right formula
Tanning products always involve a bit of trial and error to work out what works best for you. Driver recommends you, "Always read and research ingredients. Look beyond the fancy packaging and choose natural or organic products. Avoid the tans with synthetic food colouring and dyes as they tend to be streaky and make a mess on clothing and bedding." Any product that is certified organic without nasty chemicals is always the best option. If you are impatient go for a one-application tan. If you are a bit wary try a natural, gradual tan.

7. Choosing the 
right shade
"If you have fair skin, a gradual tan is your best bet," says Driver. "You can build it to the shade you want slowly. For the more olive skin type a one application tan is quicker and deeper."

8. Prolong your colour
Driver explains that sweating, swimming and harsh soaps will undoubtedly affect the life of your tan. "Use an organic oil-free moisturiser if required." Exfoliate three days after you have tanned. This helps the tan fade evenly.

9. What's new
Eco Tan's Invisible Tan is an organic self-tan that is perfect for the face and body without any artificial ingredients. Simply pop it on before work and by 6pm you are ready for cocktail hour sporting a gorgeous chocolate tan. You can apply at night and sleep in white sheets without staining bedding or offending anyone with a hideous fake tan smell. Wake up toasty brown. Too easy!

10. Advance planning
We do our best to avoid wardrobe malfunctions, so do the same for your tan. Evade potential disaster by applying your tan a couple of days prior to any big event. This will give it time to develop and any residue to wash away, leaving you clean and toasty-tanned for your outing.

Get more beauty tips and find out how to give your skin a natural glow.
Rate This