Baked Ricotta with caramelised pears & pistachios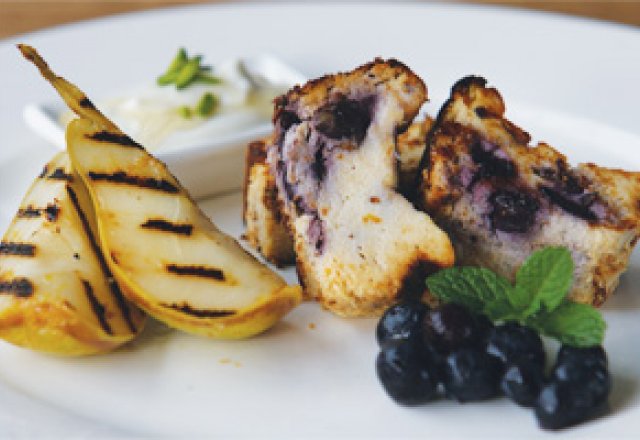 A wonderful weekend breakfast!
The ricotta needs to be made the day before, or early in the morning for a late brunch. It's also great as a dessert.
Ingredients
Oil spray
150g fresh ricotta
1 egg

2 tsp orange marmalade

2 tbs low-fat Greek yoghurt

½ tsp vanilla extract

2 tbs frozen blueberries

1 beurre bosc pear, cored, 
cut into eight pieces

½ cup low-fat Greek yoghurt

2 tsp chopped pistachios

2 tsp honey
Method
To make the ricotta, preheat oven to 180°C. Spray two small ovenproof dishes with oil. Process ricotta, egg, marmalade, vanilla and 2 tbs of yoghurt in a food processor until smooth.

Gently stir through the blueberries and spoon into prepared dishes, smoothing the top. Bake for 35 minutes. Set aside to cool for 30 minutes, then cover and chill in the fridge for 3 hours or overnight.
To make caramelised pears, spray pears lightly with oil. Heat a non-stick frying pan and cook pears over medium heat for 3 minutes or until golden. Remove from heat and cover with foil to keep warm.

Serve ricotta and pears with yoghurt, pistachios and honey. Note: If serving as dessert, add an extra tablespoon of marmalade to ricotta when mixing.
NEXT: Try this French toast with berry compote or browse more recipe ideas.
Nutritional info per serve
Energy: 1311kJ (312 Cals), Protein: 19g, Fat: 12g (Sat 3.5g), 
Carbs: 31g (Sugar 11.5g), Fibre: 9.3g
Rate This