French toast with berry compote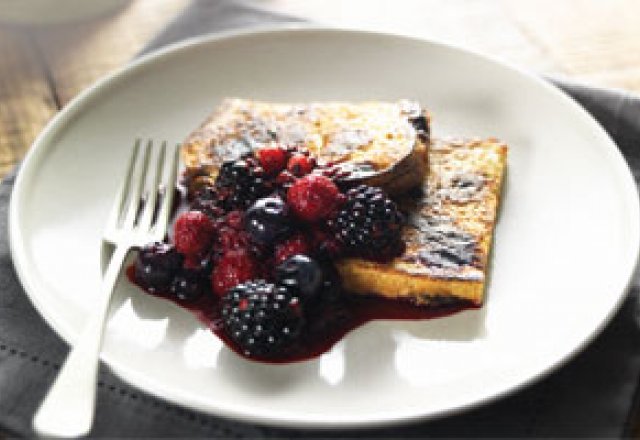 Add antioxidant rich berries to your breakfast with this great meal idea
Enjoy this berry compote on French toast using your favourite fresh or frozen berries—strawberries, raspberries, blackberries or blueberries.
INGREDIENTS
1 cup mixed berries
2 eggs
2 tbsp low-fat milk
4 slices fruit and muesli bread or fruit loaf, preferably wholegrain
2 tbsp pure maple syrup
METHOD

Put the berries in a small saucepan and gently heat until the berries are warm and have softened.

Meanwhile, break the eggs into a flat dish, add milk and whisk with a fork to combine. Add slices of bread and coat well with the egg mixture on both sides.

Heat a non-stick frying pan over medium heat and dry-fry two slices of bread at a time for about 3 minutes on each side, or until golden. Repeat with remaining 2 slices.
Cut bread in half and serve topped with the warm berries and 2 teaspoons of maple syrup drizzled over the top.
Prep: 5 mins
Cook: 15 mins
Serves: 4
This is an extract taken from The Food Lover's Diet by Dr Penny Small, published by A&U, $39.99, out now.
Rate This