Banana hazelnut chocolate bread recipe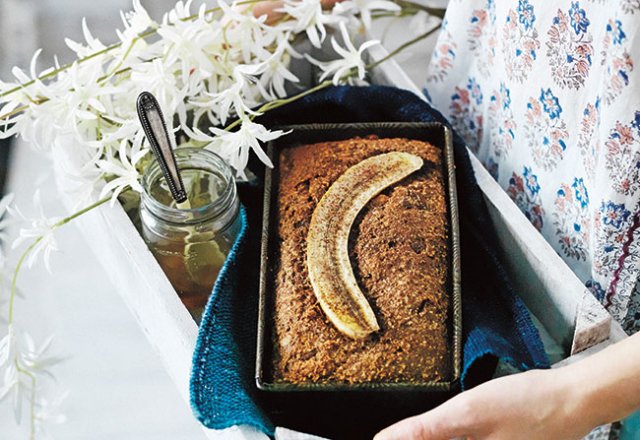 Nutritious and delicious.
We're loving Jessica Sepel's delicious banana bread recipe. Try it today!
Ingredients (makes 1 loaf)
coconut oil spray
almond meal, for coating
2 cups hazelnut meal, plus extra if needed
½ cup LSA or ground flaxseed
3 tbsp psyllium husk (for a fibre hit, but optional)
2 heaped tbsp raw cacao powder
⅓ cup hazelnuts, skins removed, crushed or chopped
2 tsp ground cinnamon
1 ½ tsp baking powder
⅓ cup roughly chopped dark chocolate or raw vegan chocolate chunks
3 ripe bananas, mashed
3 eggs
½ cup medjool dates, pitted and roughly chopped
3 tbsp almond milk (or milk of your choice), plus extra if needed
2 tbsp virgin organic coconut oil, melted
2 tablespoons stevia granules, raw honey or maple syrup
To serve
½ banana, sliced
almond butter
raw honey
raw cacao powder
Method
Preheat the oven to 180°C (160°C fan-forced). Lightly spray a standard loaf tin with coconut oil and coat generously with almond meal, tipping out the excess.
Combine the hazelnut meal, LSA or flaxseed, psyllium husk (if using), cacao powder, hazelnuts, cinnamon, baking powder and chocolate in a large mixing bowl.
In a jug, whisk together the mashed banana, eggs, dates, milk, coconut oil and sweetener.
Pour the banana mixture into the dry ingredients and mix until well combined.
If the batter is too wet, add extra hazelnut meal; if it is too dry, add more milk.
Spoon the batter into the prepared tin and decorate the top with the sliced banana.
Bake for 45–60 minutes or until a skewer inserted in the centre comes out clean.
Remove and allow to cool in the tin.
Gently tip the cooled loaf out of the tin and cut into slices. This is delicious served with almond butter, honey and a sprinkle of cacao powder.
Store in an airtight container in the fridge for up to a week, or wrap individual slices and store in the freezer for a month.
This recipe is taken from Living the Healthy Life by Jessica Sepel, RRP $39.99, Macmillan Australia, and is available now.
Rate This