Polish pancakes with berries and cream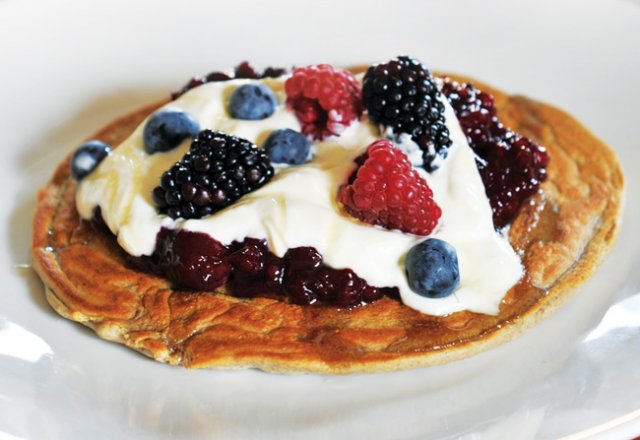 Naleśniki na słodko
Dorota and Walter Trupp share one of Dorota's favourite breakfast recipes from her native Poland.
Buckwheat Blini
Ingredients
1 tsp dried yeast
1 cup (250ml) milk at room temperature
220g wholegrain buckwheat flour
4 eggs
2 tbsp butter
1 tbsp yoghurt (use sour cream as replacement)
METHOD
Dissolve the yeast in some of the milk.
Add half the flour in a bowl.
Proof the dough for five to 10 minutes (during this time the dough should increase in volume).
Meanwhile, separate the egg whites from the yolks and place the egg white into a metal bowl.
Melt the butter in a small saucepan.
Add the egg yolks, yoghurt, butter and remaining flour to the yeast dough and mix through.
Whisk the egg whites to a thick, runny meringue (foam) and fold it carefully through the dough.
Rest the dough for 10 minutes.
Heat a (ideally very small) non-stick pan, place some dough in it (approximately half a cm high) into the hot pan.
Bake for one to two minutes until they are golden brown, than flip it over and bake for a few more seconds on the other side.
Note: The raw dough lasts in the fridge for a day or two.
Summer berry 
and pearl sago compote
Ingredients
5 cups mixed berries: black or red currants, raspberries, blueberries, strawberries, cranberries or blackberries
¼ cup brown sugar
2 cups red wine
⅓ cup pearl sago
1 cinnamon quill, optional
¼ vanilla bean, optional (use 1 tbsp vanilla essence as replacement)
METHOD
Place pearl sago and wine into a stockpot and soak for one to two hours.
If you are using a vanilla bean, split lengthwise and cut in half.
Add berries, sugar and spices to a stockpot and bring to boil while stirring occasionally.
Once the mixture boils, reduce the heat to a minimum and cook for three to five minutes (stirring several times). Remove from the heat.
Note: This compote is a lovely dessert on its own and, chilled, it lasts in the fridge for up to two weeks.
NEXT: Detox and energy slice>>
Rate This