Pancakes with coconut yoghurt & fresh berries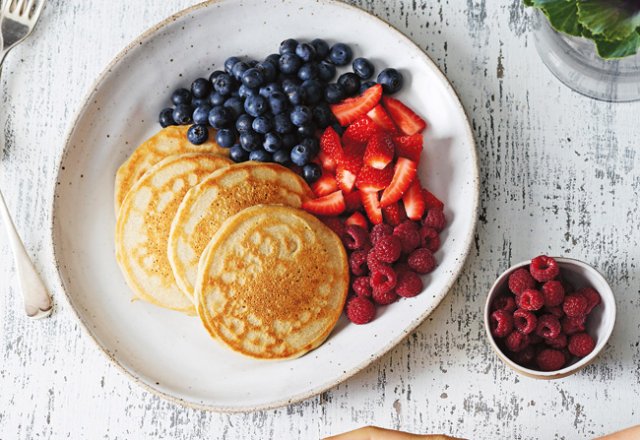 Homemade breakfast ideas
Looking for healthy homemade breakfast ideas? Try these buckwheat pancakes with coconut yoghurt and fresh berries. Delicious!
Ingredients (serves 4)
²⁄³ cup buckwheat flour
²⁄³ cup brown rice flour
2 tsp gluten-free baking powder
2tbsp maple syrup
2 organic eggs, lightly beaten
1 cup almond milk
2 tsp tsp pure vanilla extract melted virgin coconut oil, for brushing
Coconut yoghurt and fresh berries
Toasted walnuts or chia seeds
Method
Sift buckwheat flour, rice flour and baking powder into a large bowl. Make a well in the centre and add eggs, almond milk, maple syrup and vanilla extract and whisk until smooth.
Heat a large non-stick frying pan over medium heat and brush with a little coconut oil. For each pancake, ladle ¼ cup of batter into the pan and cook for about two minutes, until bubbles appear on the surface. Turn over and cook for another minute or until cooked through. Transfer to a plate and keep warm while cooking the rest of the pancakes. Brush the pan with coconut oil as needed.
Serve pancakes topped with a dollop of coconut yoghurt, fresh berries, walnuts and a drizzle of maple syrup.
Vegan version: Omit the eggs. Instead, place two tablespoons linseed meal and ½ cup (125 ml) water in a small bowl and whisk with a fork until well combined. Set aside for 10 minutes or until thick. Add to the dry ingredients with the almond milk and maple syrup, and reduce the vanilla extract to ½ teaspoon. Continue as for the recipe above. NH
Rate This