FODMAP-friendly green risotto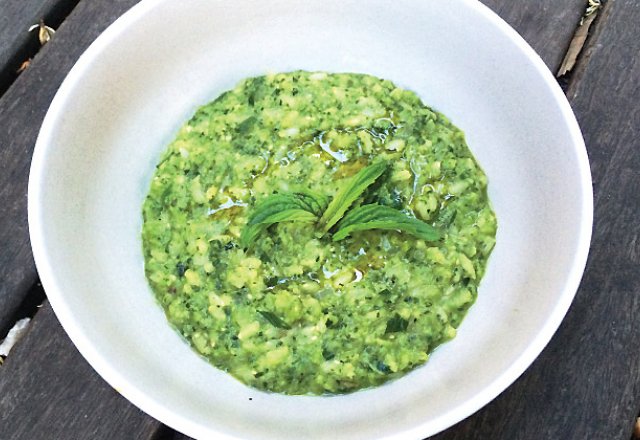 A low FODMAP diet can help ease cramping, bloating and constipation. Try this tasty green risotto recipe.
Ingredients (Serves 4)
4½ cups water
2 bay leaves
1½ cups green beans, washed and cut into small pieces
1½ cups zucchini, cut into small cubes
3 cups baby spinach leaves
1 tbsp olive oil
1 tsp dried oregano
1 cup brown rice, rinsed well in a sieve
½ cup flat leaf parsley, chopped
¼ cup fresh mint leaves, chopped
Sea salt and cracked black pepper, for seasoning
Method
In a small pot, heat the four cups of water with two bay leaves and keep on low heat until required.
In a pan, add green beans, zucchini and spinach along with remaining half a cup of water.
Bring to a gentle simmer and stir for about five to seven minutes or until beans are soft and spinach has wilted.
Carefully transfer everything from the pan (including the water) into your blender for later use.
Using the same pan, heat olive oil and add oregano and rice and cook for about three minutes.
Using a ladle, pour in one ladleful of the bay leaf water at a time, stirring the rice continuously until it has absorbed all of the liquid
Continue doing this until all of the water has been used or until the rice is cooked through (it should take about 30 to 40 minutes).
Once the rice is cooked, blitz the vegetables in the blender until smooth and creamy.
Pour mixture into rice and stir well until the entire dish becomes bright green.
Season with parsley, mint, a little sea salt and plenty of cracked pepper.
Serve immediately.
NEXT: Browse more healthy recipes or connect with us on Facebook!
Rate This