Cabbage balls stuffed with lentils and rice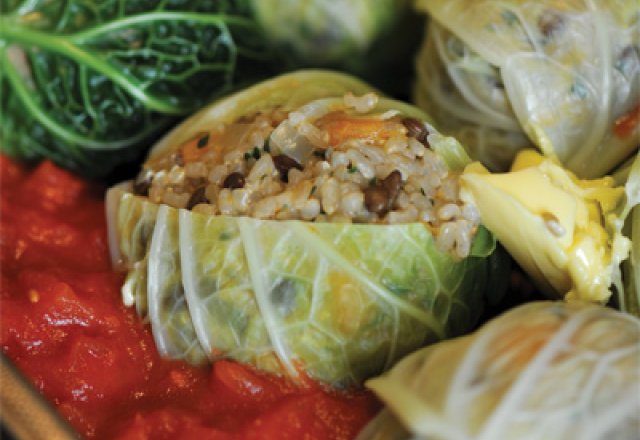 Healthy recipe ideas
Wondering what to cook for your next dinner party? Dorota and Walter Trupp share their simple, healthy and affordable vegetarian recipes to wow your guests with.
Ingredients (serves 4)
Preparation Time: 35 minutes
Completion Time: 1 hour
For the wilted kale
2½ cup green or brown lentils
1½ cups wholegrain rice
1 cup diced pumpkin
1 onion, peeled
2 garlic cloves, peeled
2 tbsp chopped parsley
4 tbsp butter
Few sprigs of thyme (use marjoram, 
rosemary or oregano as replacement)
8 savoy cabbage leaves (use white cabbage as replacement)
Salt and pepper
Method
Dice the pumpkin into two to three millimetre cubes.
Place the rice and lentils into a pot, cover with water and soak overnight. Strain, add four cups of fresh water and bring to the boil. Cook on a low heat until the rice and lentils absorb all the water.
While the rice and lentil mix is cooking, bring a second pot with three to four litres of water to the boil and season with a tablespoon of salt.
While you are waiting for the water to begin to boil, chop the onion and garlic finely. Pick the thyme and chop it finely.
Place two tablespoons of butter into a pan and add the onions, garlic, pumpkin and thyme and cook on a medium heat for approximately 10 minutes, until the pumpkin is just soft.
When the water is boiling, add the cabbage leaves and boil for four to five minutes. Remove and refresh quickly in cold water and dry the leaves between two kitchen towels.
Place a leaf onto a chopping board and cut the thick part (core) of the stem out and then repeat with the remaining leaves.
When the rice and lentils are cooked, add the pumpkin mix.Season with parsley, salt and pepper and mix well through.
Cool to room temperature, then shape eight little balls and place one onto each cabbage leaf. Fold the cabbage leaf over, and lay it into the centre of a kitchen cloth. Close the cloth and wring and press the cabbage into a nice shaped ball (if the cabbage leaf it too big, trim some of it off). Repeat this with the other balls.
To cook the cabbage balls, place them into a pot or pan. Add a little water and two tablespoons of butter, cover with a lid and bring to boil. Towards the end, once the water has evaporated, roast on a low heat for six to eight minutes.
Remove and serve with homemade tomato sauce. (See below).
Homemade Tomato Sauce

Ingredients (makes 1 to 1.5 litres)
Preparation Time: 20 mins
Completion Time: 35–40 mins
2 onions, peeled
4 garlic cloves, peeled
1 red chilli
2 tbsp butter, or use coconut oil if you are lactose intolerant
2 kg over-ripe tomatoes
½ bunch of thyme (use rosemary, oregano or bay leaf if 
you prefer)
½ bunch of basil
Salt and pepper
6 tbsp olive oil
Method
Chop the chilli, onion and garlic finely. Melt the butter in a stockpot and cook the chilli, onions and garlic at a medium heat for three to five minutes.
With a little knife, remove the core of the tomatoes and chop the tomatoes roughly.
Pick leaves off the thyme, then add tomatoes and thyme to the onion mix.
Bring the sauce to the boil, stir it several times with a whisk (this will break the tomatoes up) and cook it on a low heat for 20 to 30 minutes.
In-between, pick leaves off the basil and chop roughly.
When the sauce has a thick runny consistency, remove from the heat. Add the basil, olive oil, salt and pepper, stir through and serve.
Rate This