Jessica Sepel's green detox soup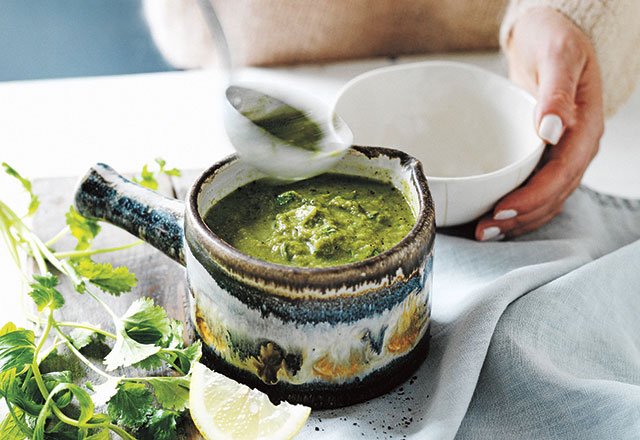 Cleansing with benefits.
Filled with so many nutrients, this wholesome soup ticks all boxes.
Ingredients (serves 4)
1 tbsp olive oil
1 large onion, roughly chopped
2 garlic cloves, crushed
1 leek, pale part only, trimmed and thinly sliced
2 large zucchini, cut into 1 cm pieces
1 large head broccoli, cut into florets, stems chopped
1 bulb fennel, trimmed and cut into
1 cm pieces
1.25 litres vegetable stock, plus extra if needed
1 tsp ground coriander
1 tsp ground cumin
½ tsp chilli flakes
Celtic sea salt and ground pepper
½ bunch kale, stalks removed and leaves torn
2 cups baby spinach leaves
½ cup mixed herbs (such as coriander, mint and flat-leaf parsley), roughly chopped
To serve
coriander or mint sprigs
lemon wedges
gluten-free crackers (optional)
Method
Heat the olive oil in a large saucepan over medium heat, add the onion, garlic and leek and cook for 5 minutes or until softened.
Add the zucchini, broccoli and fennel and cook for 2–3 minutes.
Pour in the stock, then stir in the ground coriander, cumin and chilli flakes and season to taste with pepper.
Bring to the boil, then reduce the heat and simmer for 10 minutes.
Add the kale and simmer for 5 minutes or until the vegetables are tender, adding a little water or extra stock if necessary.
Add the spinach and simmer for 1 minute. Remove from the heat.
Using either a stick blender or food processor, blend the soup until smooth. Stir through the mixed herbs and season to taste with salt and pepper.
Ladle the soup into bowls and garnish with coriander or mint sprigs. Serve with lemon wedges and Rosemary Chilli Crackers, if desired.
This recipe is from Jessica Sepel's Living the Healthy Life, RRP $39.99, Macmillan Australia.
Rate This