Mushroom curry and cauliflower rice (vegan)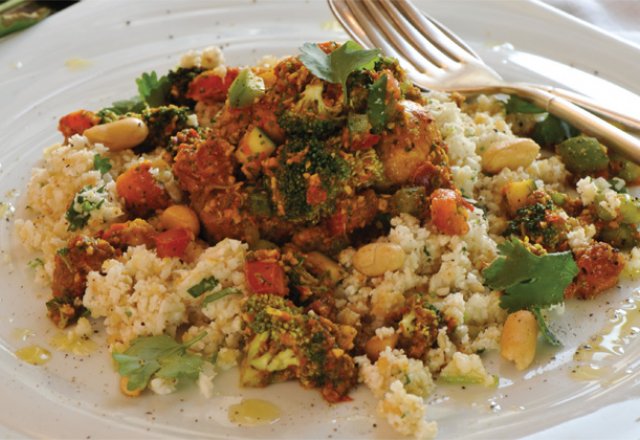 Dorota and Walter Trupp share their raw food recipes.
Ingredients (serves 4)
Curry
3 cups mixed mushrooms (button and shitake)
2 medium-sized zucchini, diced small
1 cup of green, finely diced capsicum
½ cup broccoli, diced small
2 punnets of cherry tomatoes cut into quarters
Juice of ½ a lemon
3 tbsp of soy sauce
2 tbsp of olive oil
2-3 tbsp curry powder
Salt to taste
Method: Mix all the ingredients together in a large bowl.

Curry sauce
1 red capsicum
1 clove garlic
Juice of 1/2 a lemon
1 tbsp tamarind paste
1cm cube of fresh ginger
½ cup fresh coriander
1 tbsp curry powder
½ cup desiccated coconut
½ cup water
Salt to taste
Method: Blend all ingredients in a high power blender until smooth and creamy. You may need to add more water if it is too thick.
Mix the vegetables with the sauce and warm a little in a pan while constantly stirring and without heating or boiling it.
Cauliflower rice
1 small head of cauliflower
3 tbsp of macadamia nuts
3 tbsp pine nuts
2 tbsp olive oil
1 tsp lemon juice
3 tbsp of chopped parsley
2 pinches salt
Method: Pulse the cauliflower ingredients in a food processor until rice-like.
Rate This