Green Cooks Vegie barbeque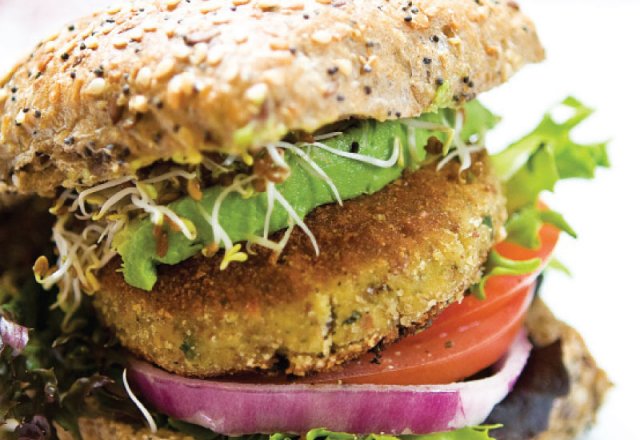 It's summer - a time for food, friends and festivities. It's a time for long lingering lunches in the sun, fresh fruits and delicious salads.
It's also a time to gather your nearest and dearest around that holiest of Australian icons – the barbeque.
For those of us who prefer to follow a vegetarian diet, or simply wish to reduce our artery clogging red meat intake, barbeques can mean boring old soy sausages, or making do with the obligatory cold pasta salad while everyone else chows down on a range of grilled meats. To save you suffering this same fate, we've come up with a recipe for a healthy, though most importantly, tasty, plant-based burger using tofu and almonds.
Tofu, made by coagulating the milk from soybeans, is a great substitute for meat-based meals, as its versatility and flavour absorption properties means it will work well in any number of dishes – from a breakfast scramble, to a lasagna filling, to a vegan friendly dessert. A good source of Iron and Vitamin B, tofu is also high in protein and although there has been a lot of conflicting information around in the last decade or so as to how beneficial the consumption of soy actually is, no scientific study has refuted the fact that pure forms of soy, such as tofu, can actually play a role in the prevention of cancer and other diseases.
Almonds, a rich source of Vitamin E and monounsaturated, or "good" fat, are a health food that will do wonders for your complexion and can play a role in the prevention of cancer and the reduction of LDL (bad) cholesterol. They are also a good source of carbohydrates for those with gluten intolerance – ground almonds are often used in baking as a substitute for wheat flour.
Of course, these burgers are perfect cooked at home in a frying pan, but for a healthy alternative to the calorie-laden, meat-heavy, Australian barbeque, why not throw a few of these protein packed, plant-based patties on the grill. Serve with a crisp green salad and place in a whole-wheat bun, we promise your friends, body and taste buds will thank you for it. NH
Toasted almond, tofu and coriander burger patties
A quick and healthy alternative to conventional meat-based burger patties, these are jam-packed with protein and flavour and are sure to please. This recipe makes eight medium sized patties but can easily be divided into fourteen mini patties. For a gluten free option, simply use gluten free breadcrumbs or gluten free flour and serve on a bed of salad. This is a versatile recipe as any nuts can be used, try replacing the almonds with macadamia or cashew nuts and the fresh coriander with basil or parsley from the herb garden. Store uncooked patties in an airtight container in the fridge for up to three days.
Makes 8 patties
Ingredients
300g firm tofu, cubed

1 cup almonds

1 small red onion, diced

½ cup chopped fresh coriander leaves, lightly packed

2 tbsp sesame seed oil

2 tbsp soy sauce

1 tsp salt

¼ tsp ground black pepper

Breadcrumbs, to coat

Cooking oil
Method
Wrap firm tofu with a dry tea towel and place a few food cans or other weights on top to squeeze out excess water.
Toast the almonds.
Set aside a small handful of red onion and coriander leaves to use later.
Add firm tofu, toasted almonds, remaining red onion and coriander leaves, sesame seed oil, soy sauce, salt and pepper to a food processor. Blend for 3-5 minutes until thoroughly combined and one dough-like ball forms in the processor. If the mixture is too wet and not sticking together, add a little flour to thicken.
Remove ball from the food processor and hand mix the red onion and coriander that has been set aside; this will add a touch of colour to the patties. Mould mixture into eight medium sized patties and coat with breadcrumbs. Refrigerate for one hour to allow flavours to develop and patties to set.
Heat oil in a frying pan and cook patties over a medium heat for 4-5 minutes each side until golden brown and cooked through.
Rate This