Thai fish cakes on quinoa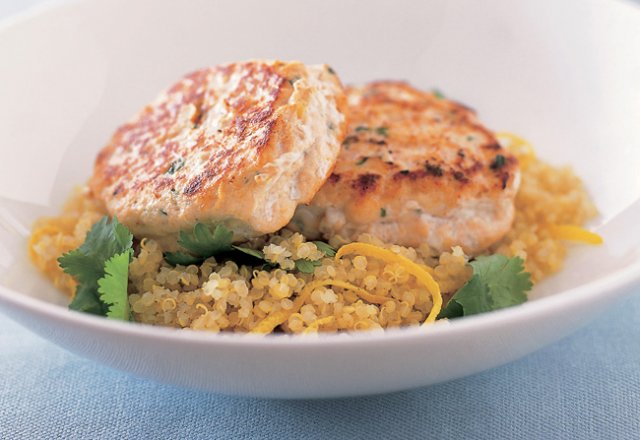 Tasty recipes your body will love
These delicious fish cakes are made from snapper, salmon and prawns.
Ingredients (serves 4)
160 g (6 oz) snapper fillet, bones and skin removed
160 g (6 oz) salmon fillet, bones and skin removed
160 g (6 oz) peeled raw prawns (shrimp)
2 teaspoons chopped fresh coriander (cilantro)
3 teaspoons fish sauce
2 teaspoons sweet chilli sauce
3 egg whites
1 garlic clove, finely chopped
2 makrut (kaffir lime) leaves, shredded
Zest and juice of 1 lemon
1 tablespoon avocado oil
100 g (½ cup) quinoa
Zest and juice of ½ lemon
Small handful fresh coriander
(cilantro) leaves, chopped
Method
Finely chop the snapper, salmon and prawns in a food processor. Add the coriander, fish sauce, chilli sauce, egg whites, garlic, lime leaves, lemon zest and juice and avocado oil. Mix together briefly. Shape into 8 patties.
Lightly oil a non-stick frying pan and cook the patties in batches for 3 minutes on each side.
Meanwhile, wash the quinoa in plenty of cold water and drain. Put in a saucepan with 250 ml (9 fl oz/1 cup) of water. Bring to the boil and then reduce the heat, cover the pan and simmer for 10-12 minutes until all the water has been absorbed. Leave to stand for 5 minutes, and then mix with the lemon zest, juice and coriander.
Serve the fish cakes on a bed of quinoa.
Browse more food ideas or connect with us on Facebook!
Recipe from The Purely Golden Door cookbook.
Rate This