Breakfast protein balls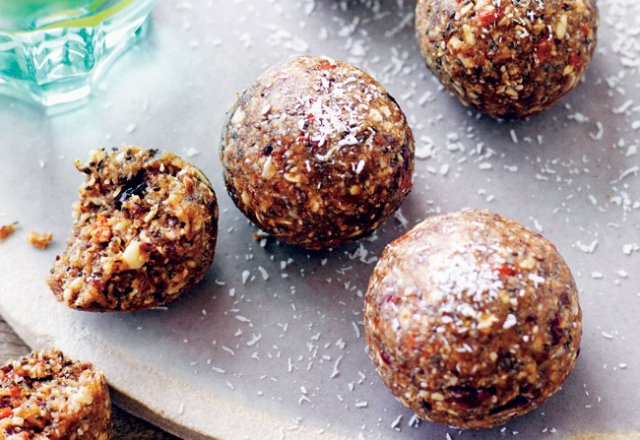 Make your morning!
These powerful little protein balls are packed with the goodness of oats, chia, cranberries and more! Trust us, they'll make your morning.
Ingredients (serves 12)
1 cup organic rolled oats
½ cup LSA or ground flaxseed
¼ cup chia seeds
¼ cup raw nuts of your choice
½ cup dried cranberries or goji berries (or a mixture of both)
2–3 fresh dates, pitted and chopped
½ cup almond butter
2 tbsp virgin organic coconut oil, melted
1 tsp ground cinnamon
1 tbsp raw honey or stevia powder
½ cup desiccated coconut (optional) + extra to sprinkle
⅓ cup filtered water
Method
In a high-powered blender or food processor, combine all the ingredients except the water and blend until the mixture is smooth.
Slowly add the water to bring the mixture together and until the desired consistency is achieved. Make sure it's not too wet – you may not need all the water.
Roll into balls, sprinkle with extra coconut, if desired, and refrigerate. These can be kept in the fridge for 7 days.
Enjoy 2 to 3 balls for brekkie.

Recipe and images by Jessica Sepel

NEXT: browse more nourishing food ideas or read about Jessica Sepel's journey to wellness.
Rate This