Zucchini, tomato and capsicum pasta
Zucchini, tomato and capsicum pasta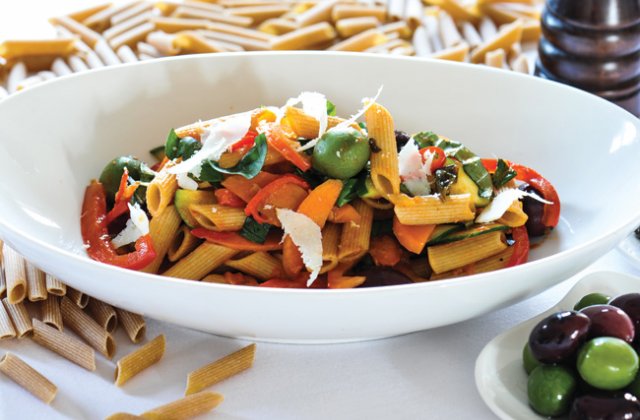 Try wholegrain pasta instead of high GI carbohydrates for a healthier meal. We love this zucchini, tomato and capsicum pasta recipe from nutritionist Dorota Trupp.
Ingredients (serves 4)
350 g dried wholegrain pasta such as penne or twists
4 small zucchini, sliced finely
2 carrots, sliced finely
2 garlic cloves, peeled and crushed
1 red capsicum, finely sliced
1–2 handfuls green and black olives
4 ripe tomatoes, finely sliced
200 ml tomato puree
3–4 anchovy fillets
½ tsp smoked paprika (optional)
1 tbsp butter
6 tbsp olive oil
1 handful of basil leaves
Salt and pepper
½ cup grated Parmesan cheese for the garnish

METHOD
Boil the pasta in plenty of salted water till soft but still has a crunchy bite (al dente). Strain the water off and rinse the pasta for several seconds under cold water.
Heat butter in a large pan or pot (large enough to hold all the ingredients).
Add anchovies, garlic, carrots and capsicum, cook for one to two minutes until the garlic is golden brown.
Add zucchini, tomatoes and tomato puree, chopped olives, smoked paprika and pasta.
Constantly stirring, cook for two to three minutes until the pasta starts to absorb the sauce and becomes thick and creamy.
Chop the basil roughly and toss through, season with salt and pepper, transfer to a serving dish and sprinkle the olive oil and Parmesan over the pasta.
Recipe from Dorota Trupp.
Browse more pasta recipes or connect with us on Facebook!