Vegie good spaghetti bolognaise
Vegie good spaghetti bolognaise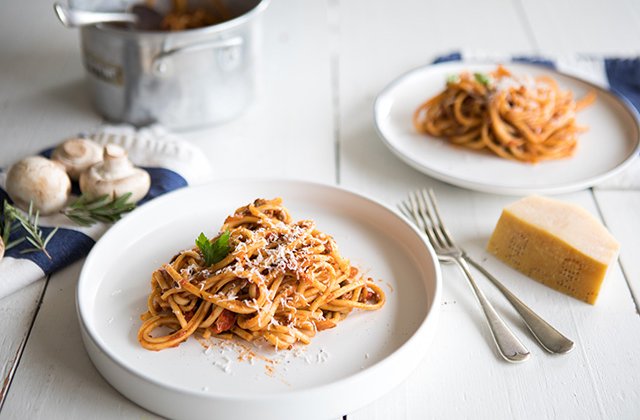 Feeding for Italian? Try this delicious homemade version.
Ingredients (serves 4)
2 tbsp olive oil
2 garlic cloves, crushed
½ medium red onion, chopped
400 g quality lamb mince
5 small mushrooms, diced
½ large red capsicum, diced
½ medium eggplant, diced
½ large zucchini, diced
2 tins quality diced/chopped tomatoes
¼ cup quality tomato paste
¼ bunch fresh parsley leaves, chopped
¼ bunch fresh basil leaves, torn
2 tsp fresh or dried thyme
1 tbsp fresh rosemary
Salt and pepper, to taste
4 serves spaghetti (or your preferred pasta)
Parmesan or pecorino cheese, to serve
Method
Heat oil in a large saucepan on medium-high heat.
Once hot, add garlic and onion, cooking until they start to soften.
Add mince, break up and cook until almost browned through. Then add all your chopped vegetables and cook while stirring for 5 minutes or until softened.
Add tinned tomatoes, tomato paste, herbs and season to taste.
Simmer with lid on over low heat for 40 minutes.
While simmering, cook spaghetti as per packet instructions.
Once bolognaise has cooked, remove from heat and add to pasta or noodles.
Serve pasta and sauce with a little cheese on top.
TIP: For a gluten-free option, use buckwheat, quinoa or zoodles.
Words: Nadia Felsch
Food photography: Nadia Felsch