Vegan 'pulled pork' tacos
Vegan 'pulled pork' tacos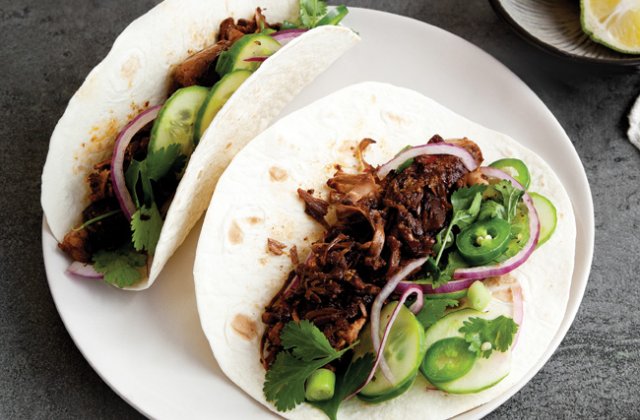 Looking for vegan recipe ideas? Try these Korean-style 'pulled pork' tacos made with jackfruit.
Jackfruit is a wonderful addition to these Korean-style tacos. Their meaty texture (remarkably similar to chicken) is loaded with numerous vitamins and minerals, plus isoflavones, phytonutrients, and anti-oxidants.
Cooking time: 30 minutes
Prep time: 10 minutes
Ingredients (serves: 4–5)
For the pulled jackfruit 'pork'
1 can jackfruit in brine (drained, from supermarkets)
1⁄3 cup water
¼ cup tamari
2 tbsp coconut sugar
2 cloves garlic
1" knob ginger (grated)
1 tbsp minced chilli
2 tbsp sesame oil
2 tbsp coconut oil
½ tsp kelp flakes
1 tbsp sriracha
For the slaw
1 small cucumber
½ lime (juiced)
2 cloves garlic (minced)
¼ red onion (sliced thin)
2 tbsp fresh coriander
1 tsp mirin
+ optional Kewpie mayo or vegan mayonnaise
To serve
8–10 small corn tortillas
Method
Add the jackfruit and all the ingredients into a small saucepan. Let sit over a very low heat for two to three hours. By this stage the jackfruit should have soaked up all the flavours and be easy to 'pull' or shred with a fork. Set this aside.
To make the slaw simply cut the cucumber into half moons, squeeze on the lime juice and mix in with the minced garlic, sliced red onion, coriander, mirin and vegan mayonnaise.
To serve simply place some of the pulled jackfruit and slaw on each tortilla and enjoy!
Recipes: Kate Bradley; photography: Elisa Watson
NEXT: Pumpkin and chickpea tagine recipe>>