Toasted chickpeas, avocado and tahini toast
Toasted chickpeas, avocado and tahini toast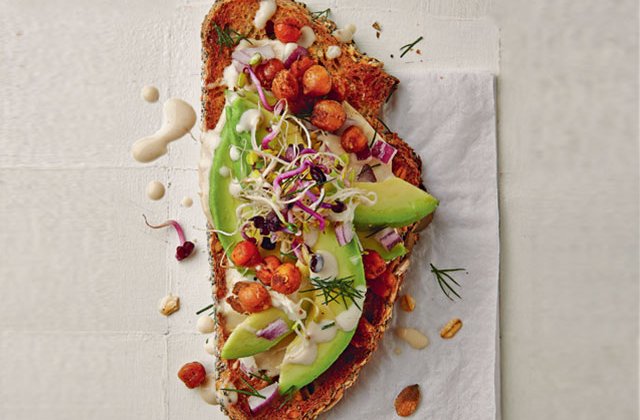 Put a spring back into your regular breakfasts with this posh toast idea.
Ingredients (serves 4)
210 g tin chickpeas, rinsed and drained
1 tbsp olive oil
¼ tsp ground cumin
¼ tsp smoked paprika
Few pinches allspice
2 tbsp tahini
1 tbsp lemon juice
4 slices seeded or rye bread
2 ripe avocados, peeled, stone removed, and sliced
½ small red onion, finely chopped
few sprigs dill, roughly chopped
salt and freshly ground black pepper
Method
Preheat the oven to 180°C. Use a clean tea towel to dry the chickpeas really well. Tip onto a lipped baking tray and bake for 10 minutes. Remove from the oven and drizzle with ½ tbsp of the oil. Scatter over the spices, season with salt and pepper and toss to coat. Return to the oven for 10 minutes, or until golden and crispy, giving them a shake halfway through.
Meanwhile, make the tahini dressing. In a bowl, combine the tahini, lemon juice, remaining oil, a little salt and 2 to 3 tbsp cold water to make a fluid but not too runny dressing.
Toast the slices of bread. Spread a spoonful of the dressing over each slice of toast. Top with the avocado slices, a little red onion, the sprouts and toasted chickpeas.
Drizzle over the remaining dressing and scatter over the dill.
Recipe is an edited extract from Posh Toast: Over 70 Recipes for Glorious Things - On Toast by Emily Kydd and Louise Hagger.
NEXT: Pumpkin pie pancakes.