Toasted apple & walnut bread with ricotta, smashed banana & fresh honeycomb
Toasted apple & walnut bread with ricotta, smashed banana & fresh honeycomb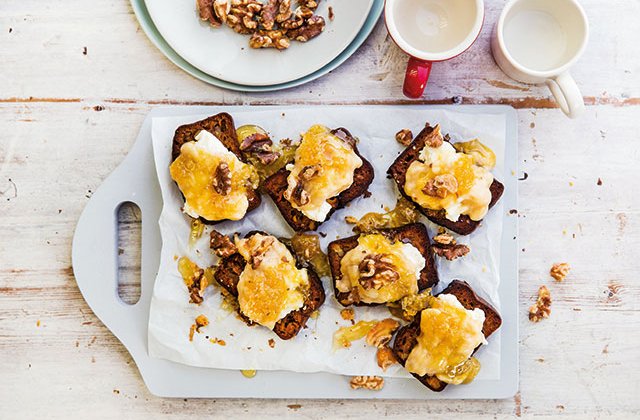 With a love for baking this bread on cold winter days, Luke Mangan can't get enough of how the smell of baked apple seems to warm the whole house. The ricotta gives this dish a great balance of sweet and savoury, that everyone will love.
Ingredients (Serves 6 to 8)
Apple & walnut bread
40 g (¼ cup) grated carrot
185 g (¾ cup) apple sauce
3 tbsp vegetable oil
½ tsp vanilla essence
1 free-range egg
75 g (⅓ cup) soft brown sugar
70 g butter, melted
100 ml milk
35 g (¼ cup) walnut pieces
165 g self-raising flour
¼ tsp sea salt
½ tsp baking powder
¼ tsp bicarbonate of soda (baking soda)
¾ tsp ground cinnamon
¼ tsp ground nutmeg
To serve
2 bananas
165 g (⅔ cup) ricotta cheese
175 g (½ cup) honey (preferably from fresh honeycomb)
16 walnut halves, toasted and roughly chopped
Method
Preheat the oven to 175°C.
Grease and line an 11 x 26 centimetre loaf (bar) tin. In a mixing bowl, combine the carrot, apple sauce, vegetable oil and vanilla. Add the egg and sugar and mix together. Add the melted butter and milk and mix to combine.
In another bowl, mix together the walnuts and remaining dry ingredients. Add them to the carrot mixture and stir to combine, but do not over-mix.
Spoon the mixture into the loaf tin. Bake for 55 minutes, or until the bread springs back when gently pressed.
Remove from the oven and cool in the tin for 10 minutes, before turning out onto a wire rack to cool for 20 minutes.
To serve, heat the grill to high. Peel the bananas, place in a bowl and crush with a fork. Slice the cooled apple and walnut bread and toast on both sides under the grill. Serve warm, topped with a spoonful of the ricotta, the mashed banana, a drizzle of honey and the chopped walnut pieces.
This recipe is a taste of Sharing Plates by Luke Mangan. Published by Murdoch Books, $39.99.