Sweet potato rosti sliders (gluten & nut free)
Sweet potato rosti sliders (gluten & nut free)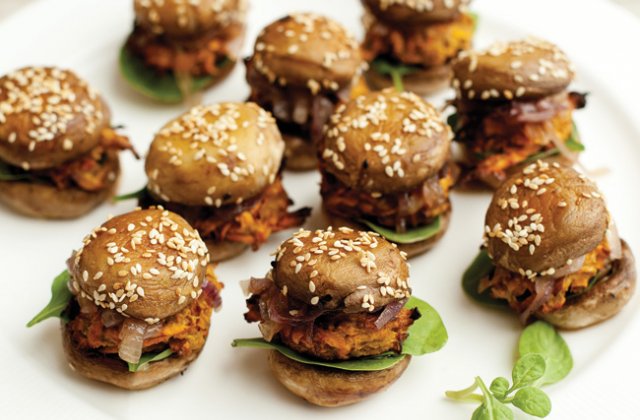 These sweet potato sliders are gluten free, nut free and suitable for vegetarians.
Ingredients (makes 10 sliders)
For the potato rosti
1 medium sweet potato
2 cloves crushed garlic
¼ cup buckwheat flour
1 free-range egg or ¼ cup of flax egg (vegan substitute, see Tip)
1 tsp cumin
Pinch of salt
Pinch of pepper
For the red onion relish
1 red onion
2 tbsp maple syrup
1 tbsp rice bran oil
For the buns
2 tbsp coconut oil
20 button mushrooms
1 tbsp toasted sesame seeds
Extras:
Baby spinach
Mayo or hummus
Method
Grate the sweet potato and place in a bowl with the remaining ingredients. Mix until combined. Roll into one tablespoon balls and flatten out gently with your hand.
Place into an oiled frypan and gently fry until cooked on each side. These can also be cooked on a lined baking tray in the oven for 20 minutes at 180°C.
While the patties are cooking, slice the red onion and cook in a frypan with the oil and maple syrup until translucent and sweet. Place to the side.
In another frying pan, melt the coconut oil and add in your button mushrooms. Cook on each side until the mushrooms are tender.
To build a slider, place one mushroom cup face down on a plate, add two to three baby spinach leaves, a miniature sweet potato rosti and a teaspoon of the onion. Place the second mushroom cup on top and sprinkle with toasted sesame seeds. Serve.
Author: Kate Bradley; Elisa Watson
Browse more gluten-free recipes or connect with us on Facebook!