Sweet potato & haloumi frittata
Sweet potato & haloumi frittata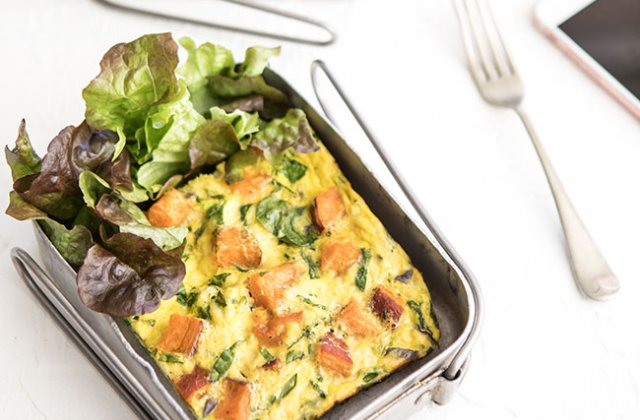 Try this sweet potato and haloumi frittata for a delicious lunch today.
Ingredients (Serves 4)
Sweet potato
1 small sweet potato
1½ tbsp extra-virgin olive oil
Salt and pepper, to taste
Frittata
100 g zucchini (1 regular)
¼ red onion
2 handfuls baby spinach
150 g haloumi
8 eggs
250 ml milk (almond works well)
Salt and pepper, to taste
Method
Preheat the oven to 180°C.
Wash sweet potato well and cut into small cubes. Coat with oil and season. Once oven is at temperature, bake for 25 to 30 minutes or until golden brown.
While baking, wash and grate zucchini, finely dice onion, chop spinach and grate haloumi.
Crack eggs and whisk, add milk and seasoning. Then combine with zucchini, onion, spinach and haloumi.
Grease or line a brownie tin with baking paper, and pour mixture into the tin.
Once sweet potato is baked, remove carefully and add to top of frittata mix. Bake frittata 25 to 30 minutes, until cooked through. Allow to cool and serve/portion out for lunches.
Works, recipes and food photography: Nadia Felsch (nadiafelsch.com)