Spinach & chickpea fritters (vegan & gluten free)
Spinach & chickpea fritters (vegan & gluten free)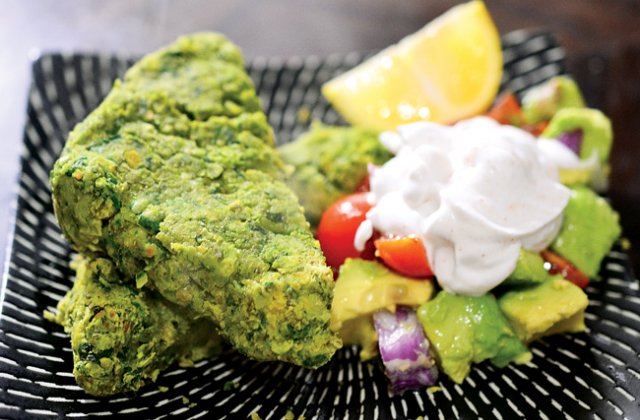 Adele from Vegie Head shares her tasty vegan recipes.
Ingredients
1 x 400g can chickpeas, rinsed and drained
½ cup baby spinach
¼ cup chia seed
¼ cup water
Salt to taste
Salsa
1 cup quartered cherry tomatoes
1 avocado, diced
¼ Spanish onion, chopped finely
2 tbsp extra virgin olive oil
Salt and lemon juice to taste
Chipotle Cream
¼ cup of coconut yoghurt
1⁄8 tsp smoky paprika
1⁄8 tsp ground ancho chilli powder (optional)
1⁄8 tsp ground chipotle spice (optional)
Method
Pre-heat oven to 200ºC. Combine salsa ingredients together and allow to sit and infuse at room temperature.
Stir in spices into coconut yoghurt and set aside.
Process ingredients together, scraping down the sides of the blender as necessary.
Spoon mixture into a small square, springform pan (or alternatively, flatten into balls) and bake for 20 minutes. Allow to cool and carefully remove. Slice in half and serve with salsa and chipotle cream.
NEXT: Browse more vegan and gluten free recipes.
Recipe from Adele at Vegiehead.com