Smoked salmon and herbed feta dip blinis
Smoked salmon and herbed feta dip blinis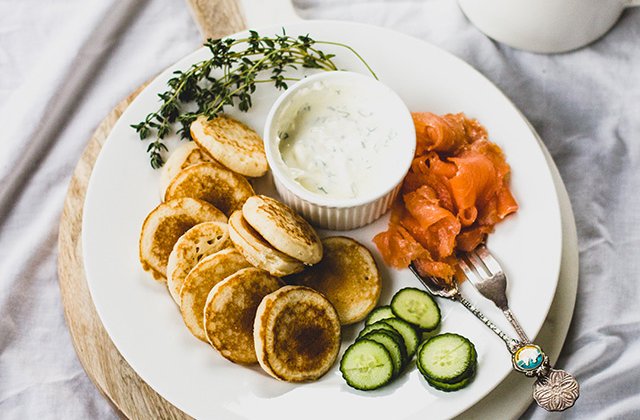 High tea's aren't just for the ladies, so this Father's Day treat Dad with these wholesome smoked salmon and herbed feta dip blinis by Martyna Angell, The Wholesome Cook.
You can make your own blinis, or use store-bought ones here. Creamy-style feta is best for this recipe.
Ingredients
For the Blinis
⅓ cup buckwheat flour

¼ cup plain flour or almond meal

1 tsp baking powder

1 egg, lightly beaten

⅔ cup buttermilk

1 tbsp melted butter or coconut oil
For the Herbed Feta Dip
75 g creamy feta

2 tbsp Greek-style yoghurt

1 tsp chopped dill

Good pinch fresh thyme leaves

¼ tsp garlic powder

Pinch sea salt flakes

To serve
100 g smoked salmon

1 small Lebanese cucumber,


thinly sliced
Method
Sift flours and baking powder into a bowl. Whisk together the egg and buttermilk until smooth, then gradually add it to the flour mixture, whisking. Stir in butter or coconut oil. Heat a large non-stick frying pan over medium to high heat. Using 2 teaspoons mixture per blini, spoon 6 neat circles of mixture into the pan and cook for 2 minutes each side or until browned. Transfer to a wire rack to cool. Repeat to make 24 blinis.
To make the dip, mash feta with a fork until smooth, add yoghurt, herbs, garlic powder and salt, mix well.
Check out Martyna's website for more healthy recipe ideas and grab the September 2016 edition of nourish magazine for more high tea ideas.