Seasonal breakfast frittata
Seasonal breakfast frittata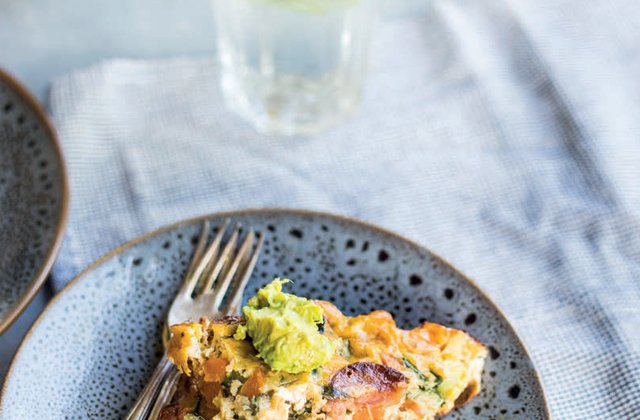 This easy-to-prepare frittata has been a longtime breakfast favorite
Serves 6
2 zucchinis, diced thickly
2 carrots, diced thickly
1 tbsp cold-pressed extra-virgin coconut oil, melted
1 red onion, sliced
½ tbsp balsamic vinegar
100g pasture-raised chorizo, sliced
1 red capsicum, sliced
50g spinach, roughly chopped
8 eggs, free range
200ml coconut cream, canned
50g goat's feta
1 avocado, smashed
Sea salt and pepper, to taste
Preheat oven to 180°C and line a rectangle baking tray with baking paper.
In a large bowl toss zucchini and carrot in half the oil. Season well and transfer to the baking tray. Cook for 15 minutes or until golden.
Heat a frypan over medium heat and add remaining coconut oil. Add onion and balsamic vinegar and sauté for 3–5 minutes, or until softened. Add chorizo and capsicum and sauté for a further 3 minutes, or until golden. Add spinach and stir until wilted.
Meanwhile, whisk eggs and coconut cream in a large bowl and stir through cooked onion mixture. Season to taste and transfer to the baking tray with the zucchini and carrot. Crumble feta on top and transfer to the oven, baking for 30–40 minutes, or until cooked through.
Allow to cool slightly before slicing and serving with smashed avocado.