Savoury buckwheat and lemon granola
Savoury buckwheat and lemon granola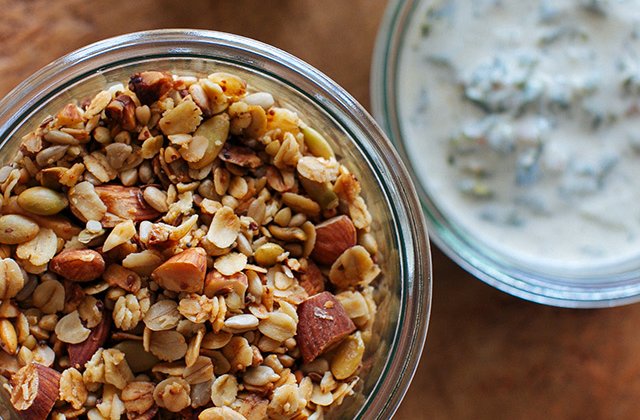 Sophie Hanson shares her lovely crunchy and textural granola for all your sweet and savoury dishes.
Ingredients (Makes about 3 cups)
½ cup extra-virgin olive oil
1 tbsp wholegrain mustard
1 tbsp maple syrup
1 clove garlic, crushed
½ tsp chilli flakes (optional)
Zest of 1 lemon
2 cups rolled oats
½ cup buckweat
½ cup pistachios, roughly chopped
½ cup almonds, toasted and
roughly chopped
½ cup pumpkin seeds
½ cup sunflower seeds
2 tbsp Nigella seeds
2 tbsp sesame seeds
Method
Preheat oven to 160°C and line two baking trays with paper. Combine the olive oil, mustard, maple syrup, garlic and lemon in a jar and shake to combine.
Combine the remaining ingredients in a large bowl and using your hands, mix in the dressing mixture so everything is well coated. Spread over the two trays and bake for 10 minutes. Rotate the trays and toss the mixture around so it cooks evenly and repeat two times so it cooks evenly for 30 minutes. Let cool then store in an airtight container.
Words, recipes and images: Sophie Hansen.
Looking for more recipes ideas for breakfast? This low-carb breakfast hash is a must try.