Rice paper rolls with satay dipping sauce
Rice paper rolls with satay dipping sauce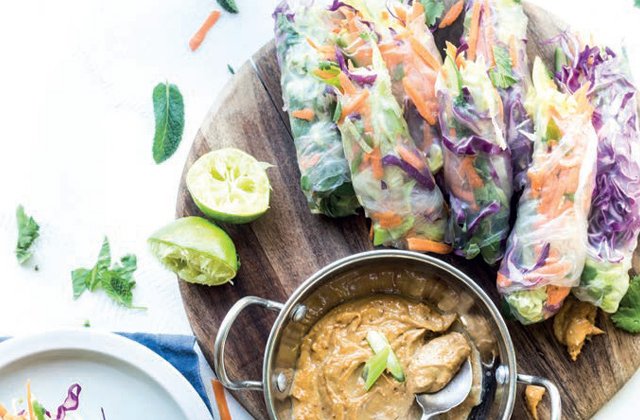 These Rice Paper Rolls are packed with fresh flavours and are best served with a tasty satay sauce
Serves 4
12 rice paper sheets
1 iceberg lettuce, finely shredded
¼ red cabbage, finely shredded
2 medium Lebanese cucumbers, sliced thinly lengthways
2 medium carrots, grated
1 bunch mint, roughly chopped
½ bunch coriander, roughly chopped
4 spring onions, sliced diagonally
Satay dipping sauce
¼ cup almond butter
1 tsp coconut aminos
½ tsp garlic powder
1 tbsp ginger, grated
3 tbsp coconut cream
½ tsp chilli flakes
1 lime, juiced
1 tsp raw honey, optional
Sea salt, to taste
To make the satay dipping sauce, combine all ingredients in a food processor and blend until smooth. Set aside.
Submerge rice paper into a large bowl of warm water for 20 seconds, until completely soft. Lift from water and transfer to a flat surface.
Top rice paper with lettuce, cabbage, cucumber, carrot, mint, coriander and spring onion. Fold bottom section of rice paper over the filling, then wrap up from the side to enclose, leaving an end open. Repeat with remaining rice paper sheets and ingredients.
Serve with satay dipping sauce.