Quinoa and vegetable loaf (vegan)
Quinoa and vegetable loaf (vegan)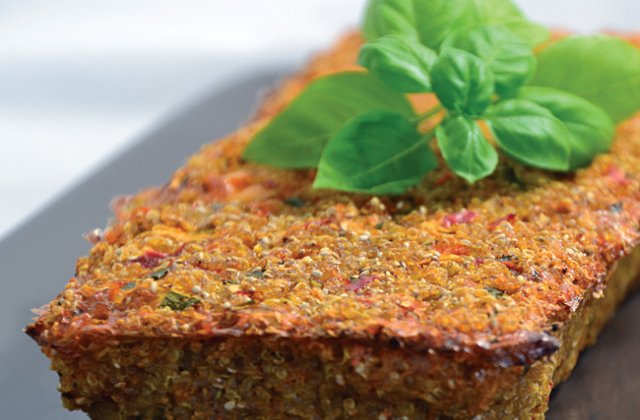 Healthy recipes from Adele at Vegiehead.com
Ingredients (makes one loaf)
2½ cups of cooked quinoa, rinsed well prior to cooking, and set aside to cool
1 zucchini, roughly chopped
½ red capsicum
1 cup broccoli florets
1 bunch flat leafed parsley
½ bunch basil
Pinch salt and pepper to taste
¼ cup nutritional yeast (optional)
2 tbsp chia seeds, soaked in
¼ cup water
METHOD
Preheat oven to 200°C.
Line an ovenproof loaf dish and
set aside.
In a blender, pulse the capsicum, zucchini, broccoli, parsley, basil, salt and pepper and nutritional yeast until finely chopped and mixed.
In a large bowl, mix the quinoa and pulsed vegetables together, stir through the chia seeds well using your fingers to combine if necessary.
Spoon into the dish and gently
push down.
Cover with foil and bake for 45 minutes, then remove from oven and allow
to cool.
Once cooled, invert onto a wire rack.
Optional: Bake on the wire rack for an extra 15 minutes – this creates a delicious, crispy outside.
Slice carefully and serve with a crisp, green salad.
Browse more vegan recipes or connect with us on Facebook!
Recipe from Adele at Vegiehead.com