Prosciutto-wrapped pears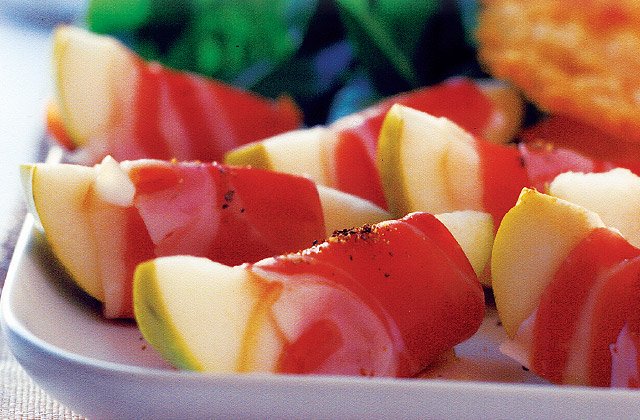 Prosciutto wrapped pears make a delicious appetiser and they're super easy to make. Serve with parmesan wafers.
Ingredients
150g parmesan cheese, grated
4 Williams pears
300g finely sliced prosciutto
75g baby rocket leaves
2–3 tbsp extra-virgin olive oil
Black pepper
Methods
Parmesan wafers
Preheat the oven to 180˚C. Line two baking trays with non-stick baking paper.
Take spoonfuls of parmesan (three teaspoons in each) and sprinkle into 12 rounds on the non-stick baking paper, allowing a gap of three-cm between each round.
Place the baking trays in the oven and cook the parmesan for seven to eight minutes or until spread and golden. Remove from the oven and allow to cool a little.
Pears
Quarter the pears and remove the cores, cut the quarters in half. Wrap each piece of pear in a slice of prosciutto, cutting the slices in half if they are large. Arrange on serving plates with some wafers and a handful of rocket leaves.
Drizzle the oil over the prosciutto wrapped pears and grind over fresh black pepper. Serve immediately.
Note: If you would like to make the pears in advance, brush the cut edges with lemon juice. Store the parmesan wafers in an airtight container if making in advance.
Recipe from Australian Pears.