Pork fajitas with smoky cherry salsa
Pork fajitas with smoky cherry salsa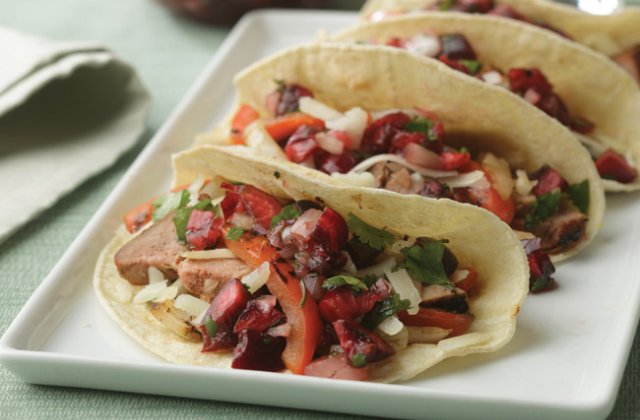 This pork fajitas recipe with grilled pork tenderloin, onions and peppers gets a sweet-smoky aroma and flavour when topped with paprika-infused cherry salsa. Manchego cheese, though untraditional for fajitas, pairs nicely.
Ingredients (serves 4)
1 tsp plus a pinch of salt, divided
2 cloves garlic, minced
Zest of 2 limes
6 tsp lime juice, divided
1¼ tsp smoked paprika, divided
½ kg pork tenderloin, trimmed
1 medium white onion, thickly sliced
1 red or green capsicum, quartered
1 cup sweet or sour cherries, pitted and chopped
¼ cup coriander, chopped
½ cup Manchego or cheddar cheese, grated
8 6-inch corn tortillas, warmed
Method
Preheat grill to medium-high.
Mash one tsp salt and garlic in a small bowl with a mortar and pestle or a spoon until a paste forms. Mix in lime zest, 2 tsp lime juice and one tsp paprika. Rub the paste all over pork.
Oil the grill rack. Grill the pork, turning occasionally, until cooked. Approx. 13 to 15 minutes. Grill onion and capsicum, turning occasionally, until charred and tender, eight to 10 minutes. Transfer the pork to a clean cutting board and rest for five minutes.
Combine cherries, coriander, the remaining four tsp lime juice, the remaining 1/4 tsp paprika and pinch of salt in a bowl. Finely chop one slice of grilled onion and stir into the salsa.
Thinly slice the remaining onion and pepper. Thinly slice the pork. Serve the pork and vegetables with the salsa and cheese on tortillas.

Recipe and images by Eating Well