Pasta with mint and pea pesto
Pasta with mint and pea pesto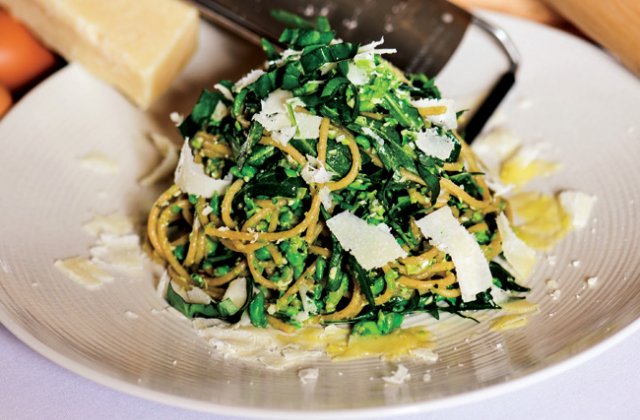 Use wholegrain pasta for healthier results.
Ingredients (serves 4)
2 cups green peas (use frozen peas as replacement)
1 medium-sized onion, peeled
2 garlic cloves, peeled
1 tbsp butter
Salt, pepper
½ cup stock (vegetable, chicken, fish or even use water)
1 handful of rocket salad
6 tbsp olive oil
Handful of shaved Parmesan
½ cup basil pesto
Few mint leaves
400 g dried wholegrain pasta
Salt, pepper
METHOD
Bring a pot with three to four litres of water to the boil and cook the pasta (follow the description for the exact cooking time). Meanwhile, chop onion and garlic finely.
Place the butter in a pot, add onions and garlic and cook on a medium heat for four to five minutes.
Add the stock, increase the heat and bring to boil. When the stock boils, add the peas and cook them for two to three minutes.
Transfer the peas to a blender and blend to a chunky puree. Place the puree back into the stockpot and add the pesto and rocket; warm through.
Chop the mint roughly. Add the mint and cooked pasta to the pea sauce, toss and heat through. Season with salt, pepper and transfer the pasta to a serving dish. Garnish the dish with the olive oil and Parmesan.
Recipe from Dorota Trupp.