Over-stuffed Zucchini Boats
Over-stuffed Zucchini Boats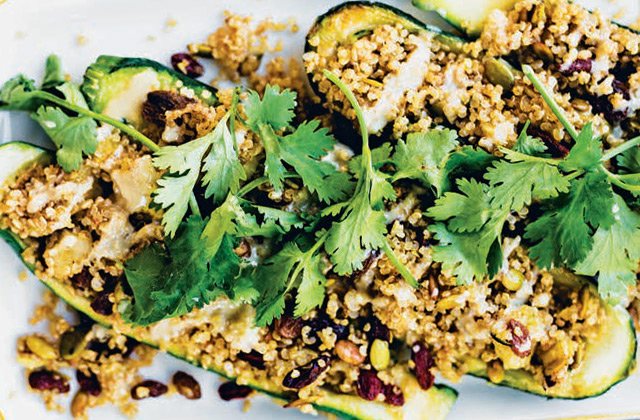 Sweet and tender zucchini, filled with a nutritious mixture of quinoa, seeds and fruit.
Ingredients (Serves 1 to 2)
2 medium zucchinis

2 tbsp extra-virgin olive oil

Pinch sea salt flakes

2 tbsp pumpkin seeds

1 cup cooked quinoa

1 tbsp raisins

1 tbsp goji berries

Pinch saffron threads

¼ tsp ground cumin

¼ tsp ground cinnamon
To Serve
2 tbsp tahini

1 tsp chopped nuts of your choice

A few coriander or parsley leaves
Pierce zucchinis with a fork all over and cut in half lengthways.
Heat oil in a large frying pan set over medium heat and add the zucchinis.
Sprinkle with salt.
Cook for 4 to 5 minutes on each side. Remove from the pan and scrape out the flesh onto a chopping board and roughly chop.
Return the pan to medium heat and toast the pumpkin seeds gently, add chopped zucchini flesh, cooked quinoa, raisins, goji berries and spices. Mix well to heat through.
Spoon the mixture into the zucchini boats and serve drizzled with tahini, sprinkled with nuts and fresh coriander or parsley.