Luke Mangan's crispy bacon & egg tacos with pico de gallo & kimchi mayo
Luke Mangan's crispy bacon & egg tacos with pico de gallo & kimchi mayo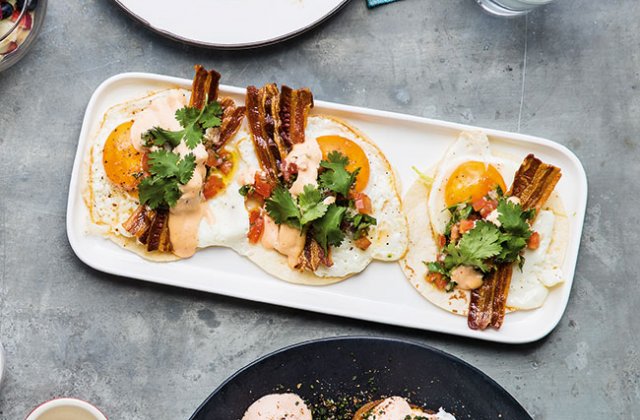 Feeding for a hearty breakfast? Try these delicious egg tacos with a dose of crispy bacon.
Ingredients (makes 8)
Pico de gallo
2–3 roma (plum) tomatoes
2 French shallots
1 jalapeño chilli, chopped
¼ bunch coriander (cilantro), leaves only, chopped
¼ bunch mint, leaves only, chopped
½ tsp cumin seeds, toasted and ground
Juice of 1 lime
70 ml extra-virgin olive oil
Tabasco or other hot sauce, to taste
Kimchi mayo
½ cup Cabbage kimchi, roughly chopped
125 g (½ cup) kewpie mayonnaise
Bacon & egg tacos
Cooking oil spray
8 middle bacon rashers, rind removed, cut in half
8 free-range eggs
8 small tortillas
¼ small iceberg lettuce, thinly sliced
¼ bunch coriander (cilantro), leaves picked
Method
Both the kimchi mayo and pico de gallo are best served fresh, so prepare them close to when you're planning on serving your tacos.
To make the pico de gallo, finely chop the tomatoes, shallots and chilli, adjusting the amount of jalapeño to your taste. For a spicier pico, leave the seeds in. Place in a bowl. Add the coriander, mint, cumin, lime juice and olive oil. Stir to combine, season with salt and pepper, then add hot sauce to taste.
For the kimchi mayo, combine the kimchi and mayonnaise in a bowl.
Heat a large non-stick frying pan over medium–high heat. Spray the pan with oil and cook the bacon for a few minutes on each side, until lightly golden.
Transfer to a plate and cover with foil to keep warm. Pan-fry the eggs, keeping them a little runny, and transfer to a plate. Wipe out the pan and reduce the heat to medium.
Warm the tortillas for a few seconds on each side, then place on a board and fill each one with the lettuce, bacon, eggs and pico de gallo.
Top with the kimchi mayo, garnish with the coriander and serve.