Lemony sunflower balls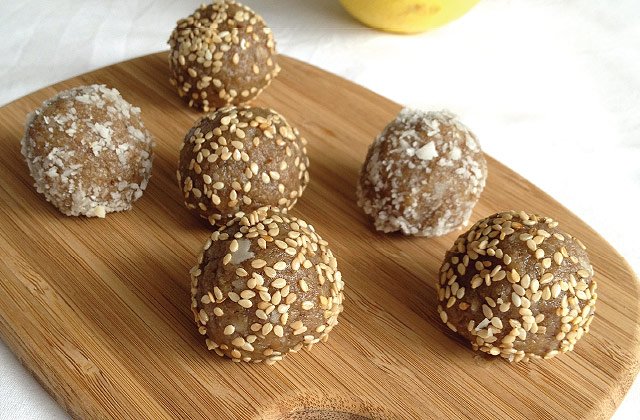 These fresh lemony bites are great for a nut-free snack with a morning or afternoon cuppa. They are super easy and combine beautifully with tea, couch and book.
Ingredients (Makes about 14 balls)
1 1⁄3 cup sunflower seeds
1⁄3 cup sesame seeds + extra
2⁄3 cup coconut, flakes or desiccated + extra
4 medjool dates, pitted
3 tbsp lemon juice
2 tbsp lemon zest, grated
Method
Throw your sunflower and sesame seeds into the blender and blend until you notice the oils release (so just beyond the point where the seeds turn into a 'meal'.) You don't want it turning to butter so keep an eye on it. Add the coconut, dates, lemon juice and zest and blend until really well combined.
Using your hands, roll in coconut and/or sesame seeds. Store in an airtight container in the fridge for one to two weeks or freeze.
Recipe from A Nourishing Kitchen eBook RRP $19 from: theholisticingredient.com/products/a-nourishing-kitchen