Granola bars dipped in chocolate
Granola bars dipped in chocolate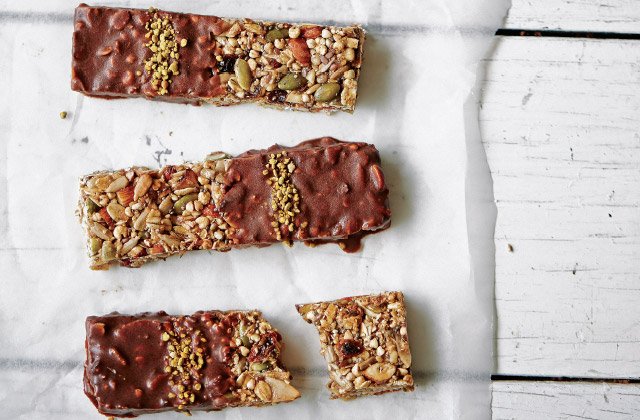 Homemade granola bars are perfect for breakfast or for a quick, high-energy snack.
Ingredients
1 cup gluten-free oats
1 cup puffed millet
½ cup pumpkin seeds
½ cup sunflower seeds
½ cup coconut chips
1 tbsp flax seeds
¼ cup goji berries
¼ cup cranberries
¼ cup raw buckwheat groats
1 tbsp chia seeds
1 tsp cinnamon
¼ tsp vanilla powder
¼ cup coconut oil
½ cup rice malt syrup
¼ tsp bicarb soda activated in ½ tsp lemon juice
1 tbsp peanut butter
Chocolate
1⁄3 cup melted coconut oil
¼ cup cacao
3 tbsp pure maple syrup
Method
Preheat the oven to 170ºC. Mix all dry ingredients in a large mixing bowl until well combined. In a saucepan on low heat, add the wet ingredients and stir until a slight foam is formed. Add the wet to the dry and combine well.
Transfer to a lined baking tray and bake for 10 minutes, until slightly golden.

For the chocolate, melt all ingredients together in a pot over low heat. To achieve a clean chocolate end, tip your bars in the chocolate after they have been in the fridge or freezer. This way the chocolate will set automatically on the cold bars.
Recipe and images from A Conscious Collection Chocoholics e-book by Brooke Meredith