Four-ingredient pancakes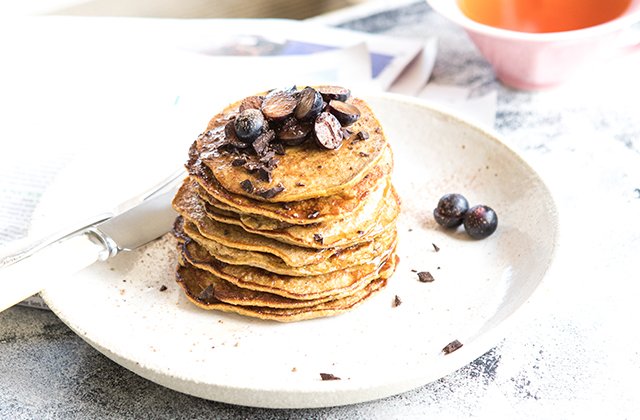 Start your day with this simple four-ingredient pancake recipe.
Ingredients (Makes 9)
1 large banana
3 eggs, beaten
¼ cup desiccated coconut
1 tsp ground cinnamon
Olive oil, to cook
Berries and maple syrup, to serve
Method
Peel the banana and mash with a fork in a large bowl. Add the beaten eggs, coconut and cinnamon and mix to combine.
Heat oil in a frying pan on medium heat.
Once hot, use a ladle to spoon small portions of the mixture into the pan.
When a spatula can go cleanly underneath the pancake (and it looks golden underneath), flip it over.
Once both sides are golden brown, remove from the heat.
Repeat for the rest of the mixture, keeping the cooked pancakes warm in the oven in the meantime.
Serve with berries and a spoon of maple syrup.
Words, recipes and food photography: Nadia Felsch.