Express pizza recipe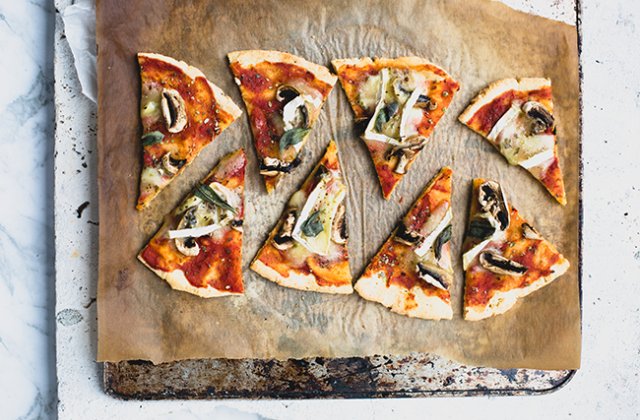 Move over, conventional flours. We're making paleo-friendly, gluten-free recipes that are just as delicious as their grainy counterparts.
Ingredients (Makes 1 individual-sized pizza)
Choose your favourite toppings or, if you include dairy in your Paleo diet, then make this delicious mushroom and brie number.
1 egg
20 g butter or coconut oil, melted
Good pinch sea salt flakes
½ tsp garlic powder
1 tbsp nutritional yeast flakes
¼ cup water
½ cup arrowroot (tapioca) flour
¼ cup coconut flour
2 tbsp pizza sauce
2 large cap mushrooms
1 tsp dried oregano
100 g brie, sliced
A few fresh sage leaves
Method
Preheat oven to 240°C. Place a baking tray in the oven to heat (this will ensure a crispy base).
In a medium bowl whisk together the egg, butter or coconut oil, salt, garlic powder, nutritional yeast flakes and water. Add tapioca and coconut flour and mix well with a spoon to form a sticky dough.
Transfer the mixture into the middle of a baking paper and using the back of a spoon dipped in water, spread the dough into a 20-centimetre diameter circle. Slide the hot baking tray under the baking paper and transfer the pizza base to the oven. Bake for 8 minutes.
Remove the par-baked crust from the oven, spread with the pizza sauce and dot with mushrooms. Sprinkle with oregano, dot with cheese and sage leaves. Return to the oven and bake for a further 6 minutes.