Broccoli bread bruschetta recipe
Broccoli bread bruschetta recipe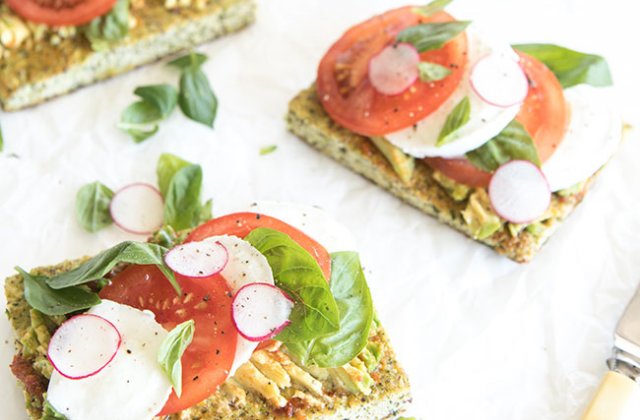 Start your day with this wholesome bruschetta courtesy of nutrition geek and recipe developer Nadia Felsch.
Ingredients (Serves 4 to 8)
Brocolli Bread
1 large head broccoli, roughly chopped
1 tbsp fresh chives
1 tbsp chopped dill
1 tbsp chopped parsley
1 tsp dried thyme
100 g almond meal
4 eggs
Salt and pepper
Topping
1 avocado, mashed
2 tbsp pesto (optional)
2 tomatoes, sliced
1 ball buffalo mozzarella, sliced
¼ cup fresh basil leaves, torn
Salt and pepper, to taste
Method
Preheat oven to 200°C and line a baking tray with baking paper.
Blitz the chopped broccoli in a food processor until it reaches a rice-like consistency.
Transfer the 'broccoli rice' to a large mixing bowl then add herbs and almond meal.
Mix together with your hands and make a well in the centre. Crack eggs into the well and whisk with a fork before using your hands to bring the dough together. (It will be slightly wet.)
Spread the dough onto the baking tray, making an even rectangular shape.
Bake for 20 to 25 minutes, or until golden and firm.
Transfer bread to a cooling rack and allow to cool before peeling away the baking paper
Cut into 8 smaller rectangles to serve, spread with avocado and pesto (if using) and top with slices of tomato, mozzarella and torn basil. Season to taste and serve.