Vegie tofu skewers and coconut prawns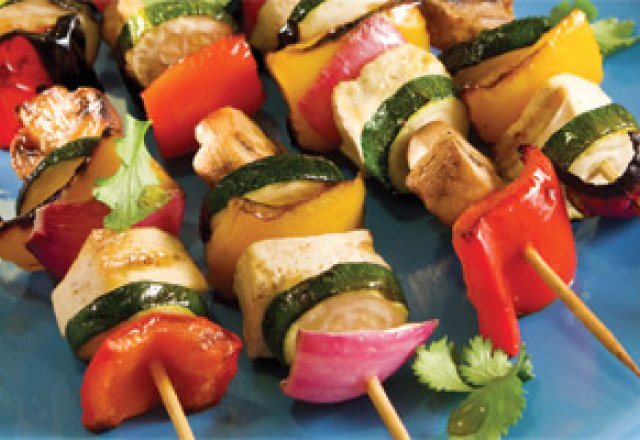 Healthy barbecue ideas
There are plenty of ways to ensure your feast is as wholesome and nutritious as it is delicious. It's just a matter of swapping the old for the new, explains Katie Jean Boulton
Swap this…
Fatty sausages, burnt chops and store-bought chooks are all Aussie outdoor favourites. These 'staples', however, can dramatically increase the risk of cardiovascular disease due to the high dose of saturated animal fat. They can also contain other nasty, hidden substances such as pesticides, antibiotics and artificial hormones.

For this…
Skipping the red meat doesn't mean you miss out on your protein. Tofu is a fantastic source of protein and takes on the flavour of whatever you choose to add it to, so you can flavour it with a different herb or spice every time to create a new dish.
Prawns are also a great source of protein, and are very low in calories. You can add almost any form of seafood to the barbie, so why not mix it up?
Vegie tofu skewers
BBQ firm tofu in coconut oil until golden.
1. Flavour with a spice mixture of your choice: curry, cumin, turmeric, coriander, cayenne pepper and more.
2. BBQ a variety of colourful vegetables 
of your choice in coconut oil: cherry tomato, green capsicum, squash, mushroom, zucchini - the choice is yours!
3. Add cooked ingredients to a skewer.

Coconut prawns
Aussies are famed for throwing a shrimp on the barbie. Try this fresh take on an old classic:
1. Brush prawns with coconut oil and barbecue until cooked.
2. Flavour with crushed garlic and chili for extra spice.
3. Mix in a tossed, leafy green salad that includes: baby spinach leaves, rocket, alfalfa, green beans, snow peas, avocado, cucumber, bean shoots, shallots, capsicum, mushrooms and olives.

Next: Try this almond, tofu and coriander burger or browse more summer recipes.
Rate This