Chocolate tofu cheesecake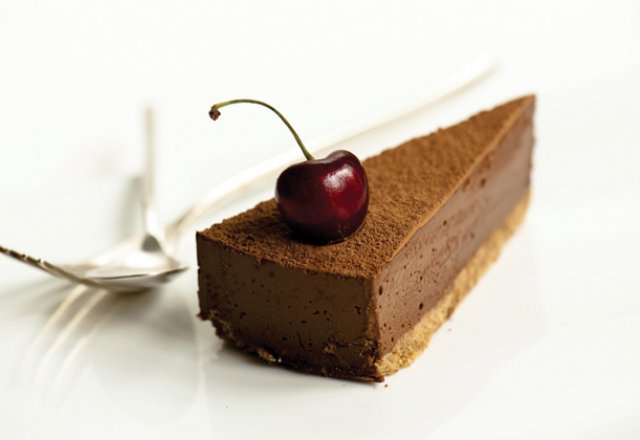 Healthy desserts from Dorota and Walter Trupp
Hosting a dinner party? End on a high with this tasty chocolate cheesecake.
Ingredients (6 to 8-inch cheesecake)
500 g silken tofu (soft)
5 to 6 tbsp organic raspberry jam, use any other flavour if you prefer
350 g dark chocolate
3 tbsp of brandy, use orange juice as replacement
1 packet of dry digestive wholegrain biscuits (alternatively, use dried cake or sweet crumbs)
Cocoa powder, to dust
Preparation Time: 20 minutes
Completion Time: 3 hours
Method
Place the biscuits into the food processor and blitz to a fine crumble. Place the crushed biscuits into a separate bowl and add two tablespoons of jam and mix to a dense dough (add some more jam if needed). Press the mix firmly and evenly onto the bottom of a cake mould so you create a flat and even cake base.
Pour a little water into a pot and bring to the boil. Place chocolate into a metal bowl and set on top of the pot with boiling water (do not let the bowl touch the water). Melt the chocolate while occasionally stirring.
Meanwhile, place tofu, jam and brandy into the food processor and mix to a very fine puree.
Remove the melted chocolate off the heat and add to the tofu and whisk together well.
Pour the chocolate cream onto the cake base and chill for two to three hours.
Remove the cake from the fridge. Place some cocoa powder into a mesh sieve and dust the surface of the cake. To remove the cake from the mold, heat a kitchen towel in plenty of hot water and fold it around the cake mold for a few seconds, then quickly lift the cake ring off.
Recipe note: This recipe only works with silken tofu. Any firmer tofu will turn this dish into a disappointment.
Rate This