Green curry mussels in a coconut broth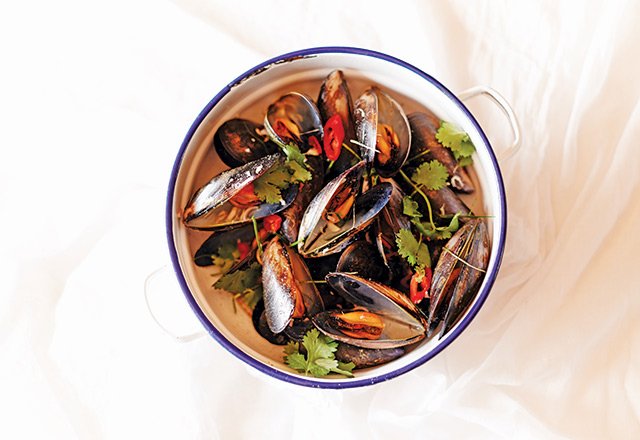 It's time to swap out your usual green chicken curry.
Spicy, tasty and aromatic, try Dani Venn's green curry and be transported to Thailand.
Ingredients ( Serves approximately 3)
1 kg mussels, scrubbed and de-bearded*
1 tbsp coconut oil
2 tbsp of Thai green curry paste**
1 tsp chopped garlic
1 stalk lemongrass (white part only), finely chopped
⅔ cup coconut milk
1 long red chilli, finely sliced
1 tbsp chopped coriander or Thai basil, including stalks, plus extra for garnish
1 lime, juice only
2 fresh kaffir lime leaves, very finely sliced
Steamed brown rice or quinoa, to serve
*To de-beard mussels, yank the hairy, seaweed looking thing on the side of the mussel out as much as you can, carefully.
**When choosing a curry paste, make sure it's preservative and sugar free with no weird numbers listed on the ingredient list, or try making your own.
Method
Place a large saucepan that has a fitted lid over high heat, add ½ cup of water and all of the mussels. Place lid on saucepan and steam for five minutes.
Meanwhile, add coconut oil to a separate fry pan or wok over high heat. Once hot add green curry paste, garlic and lemongrass and cook for a few minutes, stirring occasionally.
Turn heat down to low then add coconut milk, chilli and coriander, cook for a further minute, stirring to combine.
Once mussels have opened and are cooked, add mussels and the lovely salty mussel water from the frypan into the coconut milk mixture. Toss well to combine, Add lime juice, stir and taste. It should be a little salty, hot, sweet and sour.
Serve mussels with a soup ladle of broth and garnished with coriander and kaffir lime leaf and steamed brown rice or quinoa. If a mussel doesn't open you can try and gently pry it open, it doesn't mean that it is off.
Recipe by Dani Venn.
NEXT: Try Dani Venn's raw carrot cake for dessert.
Rate This