Macadamia & coconut-crumbed fish with rainbow slaw recipe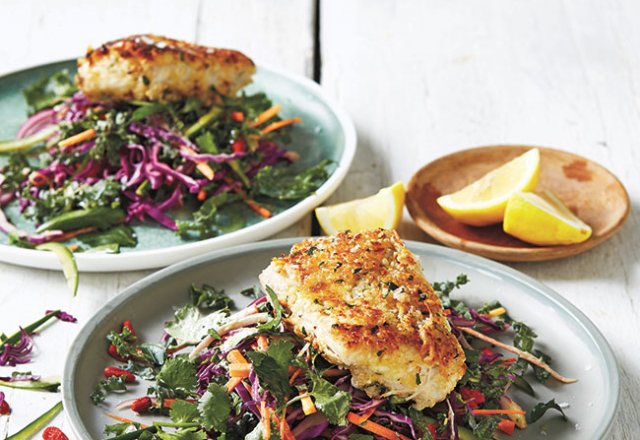 Perfect for the warmer days
This recipe by Magdalena Roze is perfect for a barbeque or lazy weekend dinner, and packs a major flavour and nutrition punch! It also happens to be gluten, sugar and dairy free.
Ingredients
60 g (½ cup) goji berries
200 g red cabbage, shredded
1 cup chopped kale, stems removed
¼ red onion, thinly sliced
1 carrot, cut into matchsticks
1 cucumber, cut into matchsticks
1 tbsp roughly chopped mint leaves, plus extra to serve
1 tbsp roughly chopped coriander leaves, plus extra to serve
120 g (1 cup) macadamia nuts, chopped
2 tbsp chopped flat-leaf parsley leaves
½ cup shredded coconut
½ cup coconut flour
3 eggs, lightly beaten
4 (about 600 g) skinless white fish fillets
2 tbsp coconut oil
lemon wedges, to serve
Dressing
1 avocado
140 g (½ cup) tahini
1 garlic clove, chopped
2 tbsp apple cider vinegar
juice of 1 lime
sea salt and freshly ground
black pepper
Method
First, rehydrate the goji berries by placing them in a small bowl and covering with water. Leave to soak for 10–15 minutes until they plump up. Drain, reserving the juice for the dressing.
Place the red cabbage, kale, red onion, carrot, cucumber, mint, coriander and goji berries in a large salad bowl and toss with your hands.
To make the dressing, place the avocado, tahini, garlic, vinegar and lime juice in a food processor and blitz until creamy. Gradually add the goji berry soaking water (up to ½ cup) until the dressing reaches the desired consistency. Season with salt and pepper and mix through the slaw.
Now it's time for the fish. Place the macadamia nuts in a food processor and blitz until they form a rough crumb. Tip them into a bowl and stir through the parsley and coconut. Place the coconut flour in another bowl and the beaten egg in a third. Dip each fish fillet in the flour, then in the egg and finally coat in the macadamia mixture.
Melt the coconut oil in a frying pan over medium heat and cook the fish for 1–2 minutes on each side or until golden brown and crisp. Serve with the rainbow slaw, lemon wedges and extra coriander and mint leaves sprinkled over the top.
Rate This