Skinny minnie brownies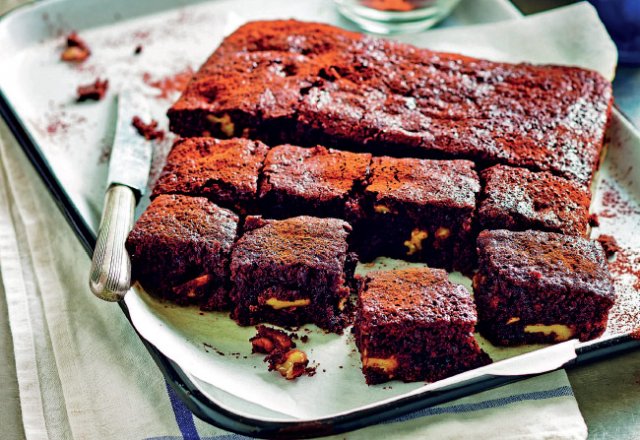 Skinny Minnie Brownies are the ultimate sugar free alternative for dessert lovers.
Ingredients (makes 16)
1 tsp olive oil, for greasing
1 cup honey or maple syrup, or 1 cup rice malt syrup
1⁄3 cup unsweetened cocoa or cacao powder
½ cup plain (all-purpose) flour
¼ tsp baking powder
¼ tsp bicarbonate of soda (baking soda)
¼ tsp salt
½ cup unsweetened apple sauce
2 tbsp coconut oil (or olive oil)
2 tsp natural vanilla extract
1 egg (free-range, organic), at room temperature
½ cup chopped walnuts or pecans (optional)
½ cup semisweet chocolate chips or cacao nibs (optional)
Method
Preheat the oven to 180°C. Line a 20 cm baking tin with baking paper and grease with olive oil.
Measure the honey into a large bowl and microwave on high for 45 seconds. Whisk in the cocoa and allow to cool.
Meanwhile, in a small bowl, combine the flour, baking powder, bicarbonate of soda and salt.
In a large bowl, whisk the apple sauce, coconut oil and vanilla together until well combined. (Note: if you need to smooth out the coconut oil, heat it in the microwave for 10 seconds.)
Add the egg, then the cooled honey-cocoa mixture, nuts and choc chips (or cacao nibs, if using) and stir until smooth. Add the flour mixture and stir until all the flour is incorporated. Pour into the baking tin and spread out evenly.
Bake for 25–30 minutes. It's important not to overbake the mixture. To test it, insert a toothpick into the centre. It's ready if there are a few moist crumbs on it.
Cool the mixture in the tin on a wire rack. Remove the brownies using the baking paper and slice into 16 squares.
Recipes from The Good Life available from (Allen and Unwin, $34.99)
Rate This