Paleo lamingtons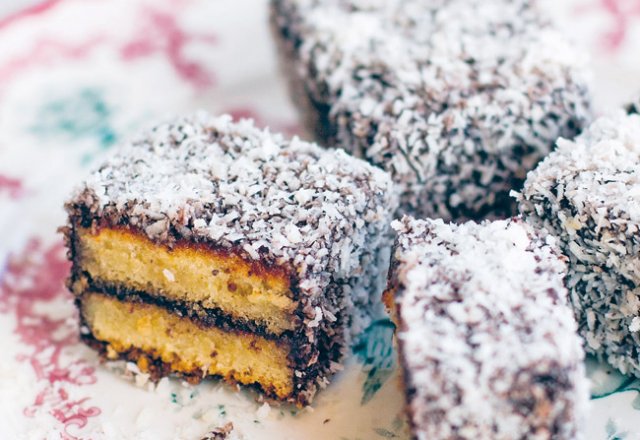 Eat, drink, paleo
Try this paleo take on the humble lamington
Ingredients (makes 16)

For the sponge cake
Just under ⅔ cup of coconut oil
4 tbsp raw honey or 2 ½ tbsp green leaf stevia powder
1 tsp vanilla extract
3 whole eggs
1 tsp gluten-free baking powder
½ cup tapioca flour
⅔ cup almond meal
Olive oil for greasing
For the chocolate and coconut icing
⅔ cup coconut oil
½ cup cocoa powder
1 tsp vanilla extract
3 tbsp coconut or almond milk
2 tbsp maple syrup or 1 tbsp green leaf stevia powder

1 ½ cup desiccated coconut

Method
Preheat oven to 165°C (330°F). Grease a 2 cm deep, 20 cm x 30 cm base baking tray with olive oil. Line with baking paper.

Dissolve coconut oil, honey and vanilla extract and whisk together until well incorporated.

Using an electric mixer, beat eggs for five minutes until thick and foamy. Gradually add coconut oil mix while beating the eggs. Add baking powder, tapioca flour and almond meal.

Using a whisk or a spatula, fold for 10 to 15 seconds until incorporated.

Pour mixture into the prepared tray. Bake for 20 minutes or until a skewer inserted into the centre comes out clean.

Turn the sponge cake onto a wire rack and set aside to cool completely. When cooled, trim the edges off and cut into four equal strips.

To make chocolate icing, combine coconut oil, cocoa, vanilla, coconut milk and syrup in a bowl. Whisk for one minute. Spread desiccated coconut on a separate plate.

Spread a thin layer of chocolate icing on one side of the sponge cake strips. Stick two strips into one, chocolate sides in. Cut strips into equal lamington pieces.

Using two forks, dip and coat lamington pieces with a thin layer of chocolate icing and then dip and roll in coconut. Set aside on a wire rack for one to two hours before serving.
If the icing starts to set while coating, add one to two tablespoons of hot water and whisk through again.

Recipe by Irena Macri

NEXT: Benefits of a protein rich, high fibre diet
Rate This