Shish kebab wraps with spicy seitan medallions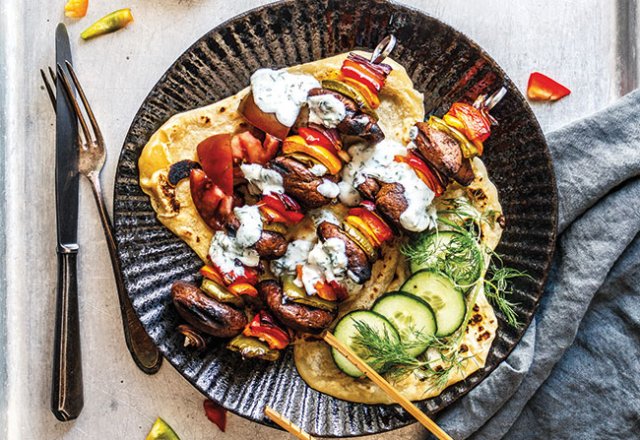 Summer barbecue, the vegan way!
This vegan-friendly dish will be a crowd pleaser at any summer barbecue feasting.
Ingredients (makes 4 wraps)
For the Seitan
225g seitan fix (vital wheat gluten)
3 tbsp yeast flakes
1 tbsp cornflour
2 tsp paprika
1 tsp ground cumin
1 tsp garlic powder
¾ tsp ground cinnamon
½ tsp pepper
½ tsp salt
100g beetroot
2 tbsp soy sauce
2 tbsp vegan Worcestershire sauce
2 tbsp olive oil
1 tbsp sugar beet syrup
For the Marinade
1 garlic clove
2 tbsp cider vinegar
2 tbsp olive oil
For the Extras
½ each of a red, green nd yellow pepper
1 red onion
1 tomato
½ a cucumber
4 chapatis
4 tbsp cucumber, mint and vegan yoghurt sauce
Method
Thoroughly mix together the seitan fix, yeast flakes, cornflour, paprika, cumin, garlic powder, cinnamon, pepper and salt.
Combine the beetroot, soy sauce, Worcestershire sauce, olive oil and sugar beet syrup in a blender and process to a purée.
Mix the dry and wet ingredients together by stirring with a wooden spoon, then knead the resulting dough well by hand.
Cut the dough into 16 portions. Press each piece flat, fold them over and cut them into medallions. Put the medallions in a steamer and steam them for 30 minutes.
For the marinade, finely chop or crush the garlic and mix with the remaining marinade ingredients until smooth.
Add the seitan medallions to the marinade and marinate for at least 4 hours in the refrigerator.
Recipe by Nadine Horn and Jörg Mayer.
Rate This