Seitan curry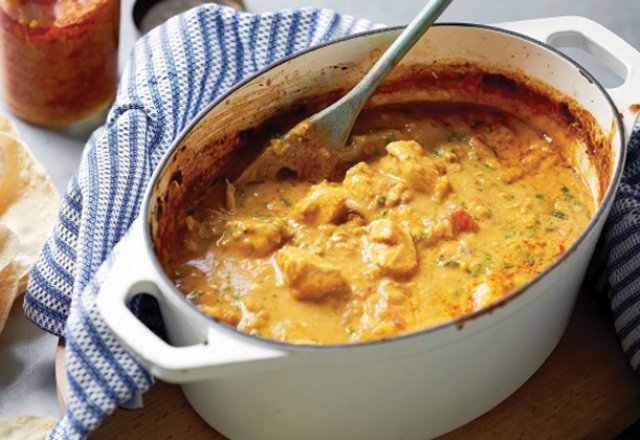 Vegan recipe from Suzy Spoon
Seitan is derived from the protein portion of wheat. It replaces meat in many vegetarian recipes e.g., mock duck, mock chicken, etc.
Ingredients
Soy sauce
3 tbsp olive oil
1 tsp mustard seeds
1 ½ big, diced brown onions
6 cloves garlic, chopped into chunks
59 gm fresh ginger, diced
4 scrunched up fresh curry leaves
1 tspn cumin
½ tspn fennel seeds
1 tspn dill seeds
½ tbsp chilli powder
300 gm seitan pieces (from Spoon's Vegetarian Butcher)
2 washed and diced tomatoes
¾ tspn salt
2 cups water
½ cup coconut milk
Method
Marinate Seitan pieces in soy sauce for at least 30 minutes.
Heat oil in large fry pan on medium heatand add mustard seeds and sauté until they pop. Add the onion and sauté until soft 
and brown.
Place garlic, ginger, curry leaves, cumin,fennel seeds, dill seeds, chilli powder andthen add Seitan pieces into the pan.
Sauté for 5 minutes then add tomatoes, salt and water. Cook for 10 minutes. Add coconut milk and simmer 5 minutes
Serve hot with rice and vegetables.
Author: Suzy Spoon from Spoon's Vegetarian Butcher.
Rate This