Vegie power balls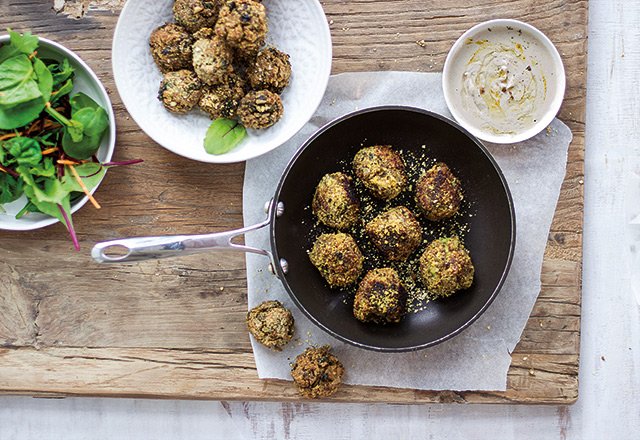 Introducing the latest superfood.
Lupins are rich in protein, making it one of the highest sources of plant protein available, here, Sally O'Neil shows us how to use them to make delicious vegie power balls.
Ingredients
Wet ingredients
2 tbsp tahini (or almond butter)
3 tbsp tamari or soy sauce
1 tbsp sesame oil
1 tsp apple cider vinegar
1 tsp rice malt syrup
1 tbsp sriracha (hot sauce)
3 cloves of garlic, crushed
½ tsp liquid smoke
1 flax egg (mix 1 tbsp broken flax seeds + 3 tbsp water, let sit for a few minutes)
1 tbsp water
Dry ingredients
¾ cup lupin flakes
1 tsp salt
1 tsp ground black pepper
1 tsp cumin
1½ tbsp nutritional yeast or parmesan cheese
1 cup cooked quinoa or brown rice
1⁄3 cup pine nuts, finely chopped
Fresh ingredients
1 large portabello mushroom, diced
1 red onion, finely sliced and roughly chopped
2 kale leaves, de-stemmed and chopped
Small handful parsley or other fresh herbs, finely chopped
Method
In a small bowl mix the wet ingredients together.
In a separate, large bowl mix the lupin flakes, salt, pepper, cumin, and nutritional yeast well with a spoon. Add quinoa or rice and pine nuts and mix well.
In a pan sauté the mushroom, onion and kale heat for 5-10 minutes.
Add sautéed veg to the large bowl of dry ingredients, pour in the liquid ingredients and mix well, along with the fresh herbs.
Adjust the mix with more lupin flakes if it's too loose, then season to taste with salt and pepper.
Shape the mix into small balls using hands and then roll in additional lupin flakes.
Add coconut or olive oil to a pan and fry the balls in a pan on medium heat until golden brown.
Remove from heat, lightly salt and serve with hummus and fresh salad.
Recipe by Sally O'Neil The Fit Foodie.
Rate This